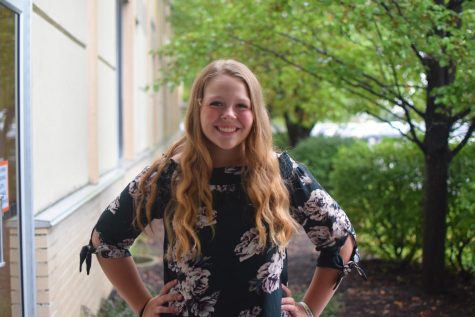 My name is Lindsey Walk and I am a junior this year at TAHS. This is my first year being involved in 
Eagle Eye. 
I am also involved in tennis, POPS Extension, Aevidum, Golden Revolution, Mock Trial, YAN, NHS, and Drama Club. I enjoy singing on my free time and acting in our surrounding communities' theaters. My favorite song is Perfect by Ed Sheeran, who is also my favorite singer. I have two pets, Solomon a toy poodle and Bella, a guinea pig. My favorite TV show is Grey's Anatomy. One of my favorite books is the
Longest Ride
by Nicholas Sparks. I plan to attend college right after high school. I hope to become a physician assistant and to work in hospitals after college.
Lindsey Walk, Staff Writer
Jun 06, 2019

'Be Golden' Staff Member of the Week: Mrs. Jane Bugden

(Story/Media)

May 31, 2019

'Be Golden' Staff Member of the Week: Mrs. Brooke Yaudes

(Story/Media)

May 17, 2019

'Be Golden' Staff Member of the Week: Mr. Tim Walk

(Story)

May 16, 2019

TAHS Drama Club Earns Four Isaac Award Nominations

(Story)

May 13, 2019

Four Golden Eagles Land Their Eagle Scout Awards

(Story/Media)

May 09, 2019

'Be Golden' Staff Member of the Week: Mr. Randy Gorecki

(Story)

May 03, 2019

'Be Golden' Staff Member of the Week: Mr. Tommy Hunter

(Story/Media)

Apr 30, 2019

'Be Golden' Staff Member of the Week: Mr. James Coleman

(Story)

Apr 26, 2019

Walk for Autism this Saturday

(Story)

Apr 30, 2019

Tyrone Softball Defeats Penns Valley

(Media)

Apr 18, 2019

'Be Golden' Staff Member of the Week: Mrs. Megan Hartman

(Story/Media)

Apr 12, 2019

'Be Golden' Staff Member of the Week: Mr. Marcus Owens

(Story)

Apr 11, 2019

Athlete of the Week: Maci Brodzina

(Media)

Apr 05, 2019

'Be Golden' Staff Member of the Week: Mr. Tommy Coleman

(Story)

Apr 02, 2019

Lady Eagles Down Penns Valley

(Media)

Mar 30, 2019

'Be Golden' Staff Member of the Week: Mrs. Faith Everhart

(Story)

Mar 26, 2019

'Be Golden' Teacher of the Week: Mr. Steve Everhart

(Story/Media)

Mar 15, 2019

'Be Golden' Teacher of the Week: Mr. Ron Wilson

(Story/Media)

Feb 22, 2019

'Be Golden' Teacher of the Week: Mr. Dan Plummer

(Story/Media)

Feb 15, 2019

'Be Golden' Staff Member of the Week: Mr. Bob Wilson

(Story/Media)

Mar 08, 2019

'Be Golden' Teacher of the Week: Mr. Bryan Gruber

(Story/Media)

Mar 06, 2019

'Be Golden' Teacher of the Week: Eric Feather

(Story/Media)

Feb 27, 2019

Senior Spotlight: Kolby Cowher

(Media)

Feb 22, 2019

Four Tyrone Students Qualify for Regional Chorus

(Story)

Feb 05, 2019

Nine TAHS Students Qualify for District Chorus

(Story)

Nov 20, 2018

Athlete of the Week: Winnie Grot

(Media)

Oct 25, 2018

Athlete of the Week: Ebonee Rice

(Media)

Oct 10, 2018

Tennis Tackles Talented Grier, Comes Out on Top

(Media)

Oct 05, 2018

German Exchange Student Reminisces About her Time in Tyrone

(Story)

Oct 04, 2018

Ladies Tennis Downed on Senior Night by Talented Windber

(Media)

Sep 24, 2018

Winning Record and Winning Mountain League Among Hopes for Girls Tennis

(Media)

Sep 21, 2018

Winning Streak Continues for Girls Tennis

(Media)

Sep 17, 2018

Undefeated Lady Eagles Crush Shanksville

(Media)