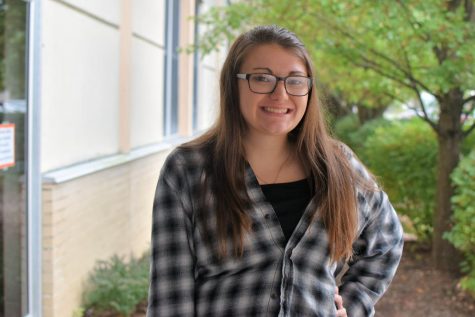 Hi! Welcome to the
Eagle Eye
! My name is Lauren Taylor. It's SENIOR YEAR BABY. Bless up. This is my third and final year being apart of the
Eagle Eye
staff.
Eagle Eye
has been my favorite class for the past three years. I am a big part of the social media news flow that comes from the
Eagle Eye News
. I post a lot of the activity on Twitter, Instagram, and even Snapchat, (which I want to use much more this year). For the past three years, I have live-tweeted majority of the varsity football and basketball games. I had a good summer with all of my best friends and going to OCMD with all of them was a good time. I work at Grier School in the kitchen and have worked there for almost a year now. I'm in NHS, and this year I signed up for more clubs including; Prom Committee, Student Council, YAN, and Avidium. I'm really shooting for the best year of school this year with all of my friends because of it's our last year together at Tyrone. I'm excited to see what the
Eagle Eye News
accomplishes and brings to our school this year.
Lauren Taylor, Social Media Director
May 16, 2019

Athlete of the Week: Cate Baran

(Story)

May 08, 2019

Senior of the Week: Sarah McCaslin

(Story)

May 01, 2019

Senior of the Week: Dalton Berry

(Story)

Apr 17, 2019

Senior of the Week: Madison Moser

(Story)

Apr 10, 2019

Senior of the Week: Sara Shock

(Story)

Apr 03, 2019

Senior Spotlight: Denver Light

(Story)

Mar 29, 2019

TAHS House Project Continues to Make Progress

(Story)

Mar 27, 2019

Senior of the Week: Lexi Kagarise

(Story)

Mar 20, 2019

Senior of the Week: Ava McCracken

(Story)

Mar 07, 2019

Athlete of the Week: Madison Coleman

(Story)

Jan 17, 2019

Tyrone's Shaw Joins the 1,000 Point Club

(Story)

Jan 11, 2019

Snowball Tickets Are On Sale Now

(Story)

Nov 20, 2018

Athlete of the Week: Winnie Grot

(Story)

Nov 06, 2018

Tyrone Students Update Shakespeare in Film

(Story)

Sep 06, 2018

The Return of the Tyrone Dawg Pound

(Story)

May 17, 2018

Photo Slideshow: 2018 PROM Vol. III

(Story)

May 16, 2018

Photo Slideshow: More PROM 2018

(Story)

May 15, 2018

Photo Slideshow: 2018 Tyrone Prom Grand March

(Story)

May 08, 2018

2018 Eagle Eye Promposal Contest Winners

(Story)

Apr 27, 2018

TAHS Students: Vote NOW for Your Favorite Promposals!

(Story)

Apr 26, 2018

Eagle Eye Promposal Contest: A Simple & Sweet Promposal

(Story)

Apr 25, 2018

Eagle Eye Promposal Contest: A MemoraBULL Prom

(Story)

Apr 24, 2018

Eagle Eye Promposal Contest: GOat w Me?

(Story)

Apr 23, 2018

Eagle Eye Promposal Contest: LLAMA Just Ask

(Story)

Apr 18, 2018

Eagle Eye Promposal Contest: Sisters B4 Misters

(Story)

Apr 17, 2018

Eagle Eye Promposal Contest: A Sour then Sweet Promposal

(Story)

Apr 12, 2018

Eagle Eye Promposal Contest: May I Have This Dance?

(Story)

Apr 10, 2018

Eagle Eye Promposal Contest: Heart Shaped PROM?

(Story)

Mar 27, 2018

Eagle Eye Promposal Contest: Recruited for PROM?

(Story)

Mar 22, 2018

Eagle Eye Promposal Contest: Be my BOO?

(Story)

Mar 12, 2018

Annual Spring Fling Signups are Open

(Media)

Mar 08, 2018

Eagle Eye Promposal Contest: Diving Into Prom

(Story)

Feb 02, 2018

4th Annual Eagle Eye Promposal Contest

(Story)

Nov 02, 2017

Senior of the Week: Faythe Lewis

(Story)

Oct 24, 2017

Senior of the Week: Grace Gensimore

(Story)

Oct 16, 2017

Senior of the Week: Codi McFarland

(Story)

Oct 11, 2017

Soil Judging: More than just Dirt

(Story)

Oct 09, 2017

Senior of the Week: Rayne Burger

(Story)

Oct 02, 2017

Senior of the Week: Derrick Harris

(Story)

Sep 29, 2017

Eagle Eye Announces 2017-2018 Editors

(Story)

May 30, 2017

Longtime High School Teacher Mrs. Holsinger to Retire After 24 Years

(Story)

Mar 30, 2017

Big Changes For the 2017 Tyrone Eagle Yearbook

(Story)

Mar 20, 2017

Tyrone Welcomes New Varsity Soccer Coach

(Story)

Feb 15, 2017

Tyrone Alum Emily Jamison Helps the Homeless in Pittsburgh

(Story)

Jan 14, 2017

Every Day Counts: Attendance Matters to Tyrone Senior

(Story)

Oct 02, 2016

2016 Eagle Eye Haunted House Tour

(Story)