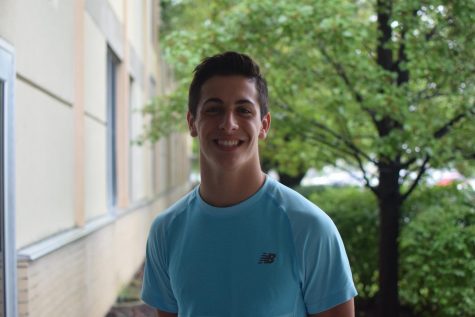 Hi, my name is Dean Michael Grassi. I play on the football and boys tennis team for the school. I'm also a member of POPS, drama club,
Eagle Eye
, and Tyrone Speech Team. My favorite subjects are gym, history, and science. My family consists of my mom, dad, and my famous brother A.J Grassi (Former Editor-in-Chief of the 
Eagle Eye
.) My favorite movies are
Star Wars, The Godfather
, and
Rocky
. And I am a huge fan of the  Pittsburgh Steelers. My plans after high school are too go to Penn State and join the Army ROTC.
Dean Grassi, Staff Writer
May 10, 2019

Boys Tennis Finishes as Co-Mountain League Champs

(Story)

May 07, 2019

Photo Slideshow: Teacher Appreciation Week Posters

(Story)

May 06, 2019

Tyrone Tennis Defeats Huntingdon; Claims Share of Mt. League Title

(Story/Media)

Mar 26, 2019

Boys Tennis Team Opens Season 1-1

(Story)

Mar 11, 2019

Tyrone Boys End Season With 13-9 Record

(Story)

Jan 18, 2019

Tyrone Boys Dominate BEA; Fall to Johnstown in Final Seconds

(Story)

Jan 07, 2019

Tyrone Boys Prove Superior in Kiwanis Tournament

(Story)

Dec 12, 2018

Tyrone Boys Dominate The Blue Devils

(Story)

Dec 06, 2018

The Future is Now: Golden Eagle Basketball Excited for the 2018-19 Season

(Story)

Nov 14, 2018

Future Looks Bright: Tyrone Junior Varsity Finishes 6-2

(Story)

Oct 31, 2018

Junior Class Steamrolls Seniors In Powderpuff Game

(Story)

Oct 24, 2018

Juniors vs Seniors Powderpuff Preview

(Story)

Oct 16, 2018

Tigers More Golden than Eagles

(Story)

Oct 15, 2018

Light Show to Move to Penn State Next Fall

(Story)