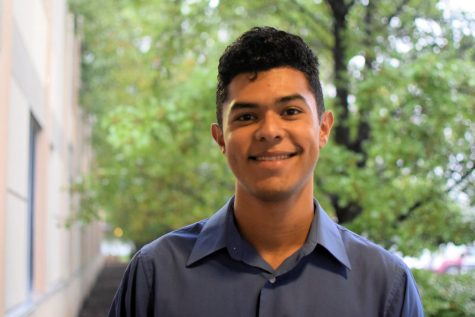 My name is Brandon Escala, and I am a senior here at Tyrone. I am a 1st-degree black belt. I have plans to attend Penn State to get a degree in psychology and to later attend law school. I love going to the movies, especially drive-inn theaters. Some of the movies I like to watch are usually Sci-Fi, Superhero/Action, and Comedy. 
Aside from being in the Eagle Eye, I am also a member of YAN, Concert Choir, and Mock Trial. I joined the Eagle Eye again this year because I love taking photos at school events. 
A fun fact about me is that I spent nine days at Washington D.C. at a Latino Leadership Law Camp and met the Secretary of Labor, Alexander Acosta, and other Latinos in charge of major government agencies such as the Department of State and the SEC.
Brandon Escala, Staff Photographer/Writer
May 07, 2019

Photo Slideshow: Teacher Appreciation Week Posters

(Story)

Apr 11, 2019

Friday is National 'Day of Silence' For LGBTQ Inclusion

(Story)

Apr 05, 2019

Tyrone to Present How To Succeed In Business Without Really Trying on April 12 & 13

(Story)

Apr 04, 2019

How To Succeed In Business Without Really Trying

(Story)

Mar 29, 2019

Where on Google Earth is Carmen San Diego?

(Story)

Mar 19, 2019

Golden Revolution Works to Enhance School Climate

(Media)

Feb 28, 2019

Athlete of the Week: Andrew Ferguson

(Media)

Feb 25, 2019

The United States of…Emergency?

(Story)

Feb 05, 2019

Golden Eagles > Bald Eagles

(Media)

Feb 08, 2019

Scholarship Deadlines: Closer than they Appear

(Media)

Jan 23, 2019

Lady Eagles Slay Dragons; Shaw Shoots Her Way Into 1000 Point Club

(Media)

Jan 17, 2019

Tyrone's Shaw Joins the 1,000 Point Club

(Media)

Oct 31, 2018

Huntingdon Spoils Senior Night; Ends Eagles Season

(Media)

Oct 31, 2018

Junior Class Steamrolls Seniors In Powderpuff Game

(Media)

Oct 24, 2018

Golden Eagles Skid Continues

(Media)

Oct 09, 2018

Bison Roll, Tyrone Loses Third in a Row

(Media)

Sep 26, 2018

Eagles Raided in the Second Half

(Media)

Sep 19, 2018

Sun Sets on the Mounties

(Media)

Sep 18, 2018

Rhodes Breaks Tyrone's Cheerleading Gender Barrier

(Media)

Sep 12, 2018

Light Passes the Test

(Media)

Sep 05, 2018

Tyrone Puts its Gripp on Central

(Media)

Aug 27, 2018

Backyard Brawl Trophy Returns to Tyrone

(Media)

May 28, 2018

Photo Slideshow: 2018 Physics Boat Race

(Story/Media)

Apr 17, 2018

The Armory: A Safe Haven with A Purpose

(Story/Media)

May 10, 2018

Mrs. Patton to Retire After 30 Years Of Service

(Media)

Apr 10, 2018

Go "Into the Woods" with TAHS this Friday and Saturday

(Media)

Mar 28, 2018

Tyrone Indoor Percussion Places Second At Jersey Shore High School

(Media)

Mar 08, 2018

Crossfire: The Case Against Arming Our Teachers

(Story)

Feb 28, 2018

Tyrone Indoor Percussion Hosts A Successful Home Show

(Media)

Jan 12, 2018

Judge, Jury, and Prankster

(Story)

Nov 01, 2017

Tyrone Band Ends Season On a High Note At Atlantic Coast Championships

(Media)

Oct 25, 2017

Tyrone Band Places Second at Chapter Championships at IUP

(Media)

Oct 18, 2017

Tyrone Marching Band Places First at Johnstown High School

(Media)

Oct 10, 2017

Tyrone Band Hosts A Successful Home Show

(Media)

Oct 03, 2017

Tyrone Band Places First At Mechanicsburg HS

(Media)

Sep 27, 2017

Tyrone Band Places First at Juniata Valley High School

(Media)

Oct 22, 2014
Oct 10, 2014

Gotham: Episode Three

(Story)

Sep 11, 2014