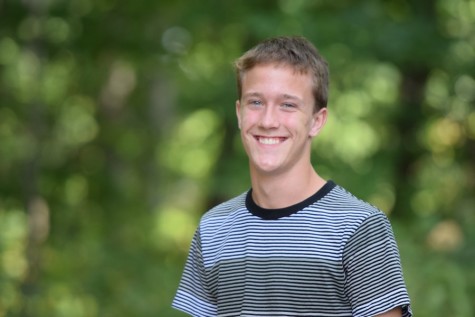 Oh hey, I didn't see you there. My name is Adam Zook, Editor in Chief of the world's greatest school newspaper:
Tyrone Eagle Eye News!
I am a senior at Tyrone High School and this is my second year with the
Eagle Eye
. I intend to pursue journalism as a career after I finish my education at Slippery Rock University. Besides writing, I also enjoy reading, watching movies and kayaking. I hope to be an editor again this year and help the
Eagle Eye
soar to new heights moving forward!
Adam Zook, Editor in Chief
May 18, 2016

Setting Sail: Voyzey and Four Other Tyrone Athletes Qualify for States at Shippensburg University

(Story)

May 17, 2016

Track Districts Preview: Fair Winds Lie Ahead

(Story)

May 13, 2016

Jumping Pupil: Tyrone Eighth Grader Wins Track and Field Gold

(Story)

May 09, 2016

Boys Track Team Performs Well at West Central Coaches Invite

(Story)

May 03, 2016

Boys Track Team Takes 2nd at Bellwood Invitational

(Story)

Apr 29, 2016

Unrecognized Success; Tyrone's Champions Deserve Public Recognition

(Story)

Apr 28, 2016

Boys Track Team Wins Mountain League Championship for 2nd Straight Season

(Story)

Apr 26, 2016

Domination: Boys Track Team Finishes Season Undefeated with Big Win Over Rival Bellwood-Antis

(Story)

Apr 25, 2016

Track Team Performs Well at Shippensburg Invitational

(Story)

Apr 25, 2016

College Corner: Finnley Christine Heads to PSU Altoona

(Story)

Apr 18, 2016

Boys Place 2nd at Bedford Invitational; Voyzey Breaks Another Record

(Story)

Apr 18, 2016

TAHS Promposal Contest: The Ultimate Study Hall Promposal

(Media)

Apr 06, 2016

Editorial: Recognition to the 'Letter'

(Media)

Apr 04, 2016

Voyzey Sets New Meet Record at 41st Annual Igloo Invitational

(Story)

Mar 21, 2016

Spend 'A Night On Broadway' with TAHS Drama Club on April 8-9

(Story)

Mar 15, 2016

Erika Voyzey Places 3rd at New Balance Indoor Nationals

(Story)

Feb 16, 2016

Adam Zook's Top Ten Greatest Films of All Time

(Story)

Feb 02, 2016

Tyrone Mock Trial experiences a "Steve Harvey" moment against Altoona

(Story)

Jan 13, 2016

Juvenile Rant: Why Are Some of us "Too Cool for Life"?

(Story)

Dec 03, 2015

A Trivial Pursuit: TAHS competes in Bedford/Blair Quiz League

(Story)

Nov 24, 2015

Golden Eagles fall to Juniata, finish season 9-3

(Story)

Nov 20, 2015

Golden Eagle grudge match: Tyrone grads meet on the college gridiron

(Story)

Nov 17, 2015

One man, one bottle of mustard, one lucky winner

(Story)

Nov 16, 2015

Vipond leads Eagles to victory on game winning 29 yard field goal

(Story)

Nov 13, 2015

Staff Editorial: Support the Eagles!

(Story)

Nov 09, 2015

Tyrone finishes regular season strong, gears up for postseason

(Story)

Nov 09, 2015

Second annual TAHS Halloween event draws 675 visitors

(Story)

Nov 03, 2015

Fear the "T": Golden Eagles rout Penns Valley, 34-6

(Story)

Oct 26, 2015

Golden Eagles escape Central Mountain with 21-20 victory

(Story)

Oct 22, 2015

Kohler wins League Championship Meet; Cross Country squads finish strong

(Story)

Oct 12, 2015

Orange Crush: Tyrone continues success, defeats Bald Eagle 42-14

(Story)

Oct 05, 2015

Flying High: Golden Eagles win 3rd in a row with 42-0 shutout over Bellefonte

(Story)

Sep 29, 2015

Tyrone Area High School wins coveted 2015 'Blue Ribbon School Award'

(Story)

Sep 27, 2015

Tyrone rolls over Philipsburg, 47-8

(Story)

Sep 24, 2015

Boys Cross Country begins season 4-1; Girls struggle due to lack of depth

(Story)

Sep 21, 2015

Tyrone rebounds against Huntingdon, 42-27

(Story)

Sep 14, 2015

Golden Eagles suffer first loss, 48-14 against Central

(Story)

Sep 06, 2015

Golden Eagles fly high in season opener

(Story)

May 28, 2015

Erika Voyzey repeats as PIAA AA high jump state champion

(Story)

May 21, 2015

Voyzey and others head to PIAA Track State Championship Meet

(Story)

May 13, 2015

Voyzey Defends District Title; Boys 4×100 Gets Gold, Getz Takes Silver

(Story)

May 07, 2015

Boys track team brings home Mountain League championship

(Story)

Apr 30, 2015

A Voice for the Voiceless: students with disabilities thrive thanks to one TAHS teacher's efforts

(Story)

Apr 27, 2015

Boys track team finishes season undefeated with victories vs BEA and P-O

(Story)

Apr 16, 2015

TAES first graders share their "Koo-Koo-Kangaroo" passion with TAHS students

(Story)

Mar 30, 2015

40th annual Igloo Invitational lives up to its name

(Story)

Mar 26, 2015

2015 Tyrone Track and Field preview

(Story)

Mar 12, 2015

Editorial: Disarray in Ferguson

(Story)

Mar 09, 2015

Top 10 NFL running backs of all time

(Story)

Feb 27, 2015

What color is the dress – The Final Analysis

(Story)

Feb 23, 2015

Ten great films Millennials need to watch

(Story)

Jan 28, 2015

Tyrone slays the Dragons at home 46-31

(Media)

Jan 23, 2015

Greatest Sports Heroes You've Never Heard Of: Michael Carter

(Story)

Dec 23, 2014

Tyrone High School honored for academic success in 2014

(Story)

Dec 22, 2014

Top five greatest quarterbacks in NFL history

(Story)

Dec 10, 2014

Golden Eagles win big over P-O Mounties, 71-17

(Story)

Dec 01, 2014

Tyrone's season comes to an end, falling to Hickory 28-0 in AA western semifinal

(Story)

Nov 26, 2014

Ask the Coach with Hickory Hornets Head Coach Bill Brest

(Story)

Nov 24, 2014

Tyrone wins 10th District Title over Mount Union 35-21

(Story)

Nov 20, 2014

Ask the Coach with Mount Union Head Coach Matt Young

(Story)

Nov 17, 2014

Golden Eagles defeat Huntington for second time, advance to District VI title game

(Story)

Nov 10, 2014

Soaring high, the Golden Eagles defeat Forest Hills 35-7 in opening round of PIAA playoffs

(Story)

Nov 03, 2014

Eagles finish regular season strong, 28-15 over Ridge

(Story)

Oct 27, 2014

Tyrone wins big again, 41-7 over Penns Valley

(Story)

Oct 21, 2014

Tyrone bounces back, dominates CM Wildcats 61-0 on Senior Night

(Story)

Oct 16, 2014

Cross Country team performs well at league championship

(Story)

Oct 13, 2014

Tyrone suffers first loss of season to Clearfield, 26-14

(Story)

Oct 09, 2014

2014 Tyrone High School homecoming court

(Story)

Sep 29, 2014

Tyrone offense rolls over Red Raiders, 47-7

(Story)

Sep 23, 2014

Eagles dominate rival Mounties, 42-3

(Story)

Sep 16, 2014

Eagles soar high over Bearcats, 52-21

(Story)

Sep 10, 2014

Golden Eagles up their record to 2-0 with 20-13 win at Central

(Story)

Sep 04, 2014

Tyrone Cross Country Season Preview

(Story)

May 30, 2014

Voyzey claims state title; finishes season undefeated in high jump

(Media)

Mar 25, 2014