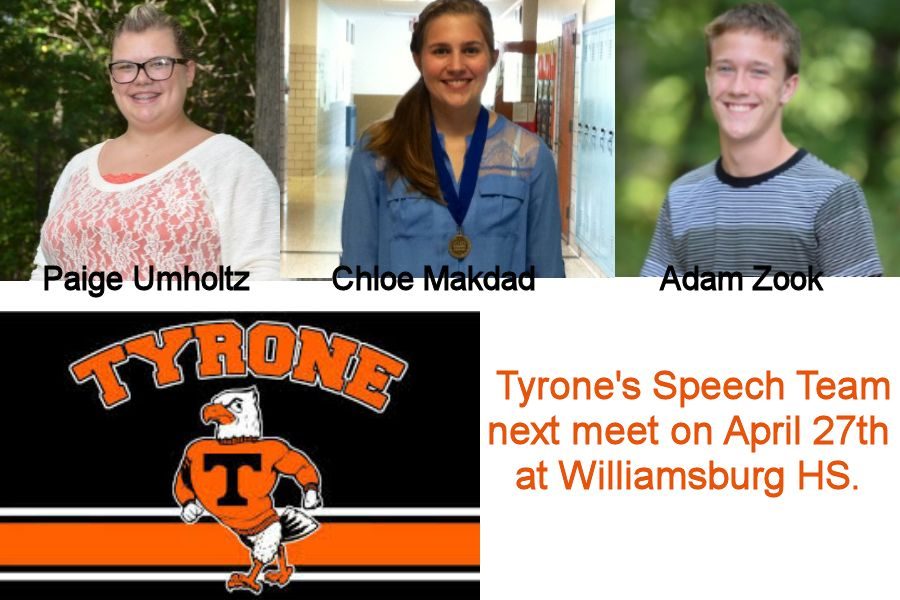 Tyrone's "Speech-letes," also known as "Tyrone's oldest sport" will be in action again this Wednesday, April 27th at Williamsburg High School for their annual spring meet.
The Tyrone Speech Team won the winter meet with an average of 58.6. Adam Zook, Chloe Makdad, and Paige Umholtz all received outstanding speakers awards.
Adam Zook won Best Serious Oral Interpretation.
"I was pleasantly surprised that I won this award with all of the good competition," said Zook.
Chloe Makdad won Best Original Oral Interpretation in the winter meet.
"Every meet we try and come up with a peace to practice with Ms. Deskevich," said Makdad.
Paige Umholtz won Best senior High Oral Interpretation during the winter meet.
"I got to compete against compete against people from other schools," said Umholtz.
The following students will attend the spring competition:  Freshman Ava Focht, Nick Kosko, Ava McCracken, Sara Shock, Meghan McMullen, sophomore Chloe Makdad, and juniors AJ Grassi, Nathan Hormell, Hunter Jackson, Kenny McKernan, Riean Minnich, Austin Shuey, and Paige Umholtz.