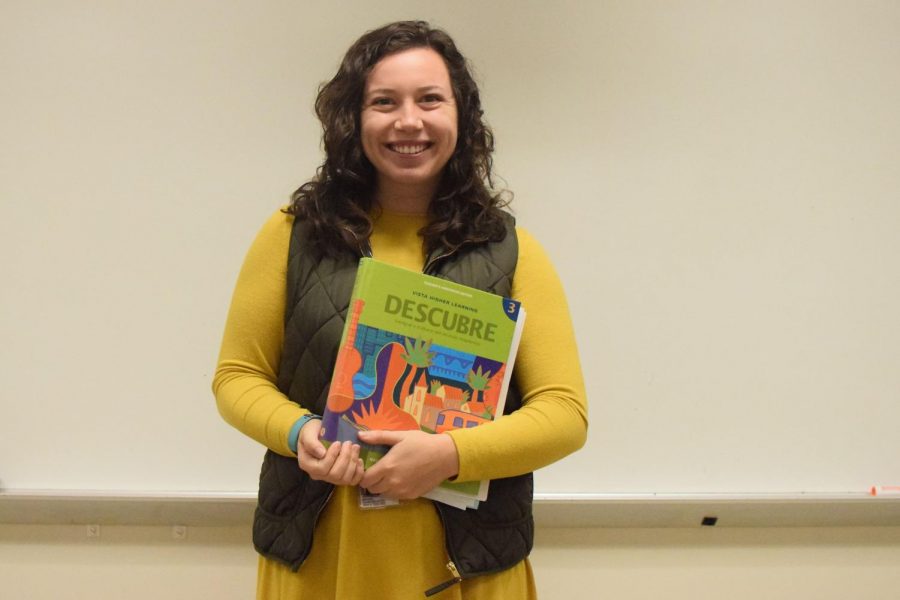 Sarah Hoover
Penn State senior Brooke Venturella started thinking about being a teacher at a very young age. In fact, when she was little, she would coerce her brothers to play school with her so that she could "teach" them math and how to read.
Today Venturella is fulfilling that childhood dream as a senior majoring in secondary education and world languages at Penn State. 
She has been doing her student teaching with Mrs. Holly Sechler, one of the two Spanish teachers at Tyrone High School.
Venturella graduated from North Hills Area High School near Pittsburgh. There she was involved in many clubs and extracurricular activities, including the Spanish Club and wind ensemble for the band. She also played in the pit orchestra and was a part of the cross country and track teams.
While she's always imagined herself being a teacher, when she first went to college she decided to try engineering as a major.  
"The day I decided to change my career path [from engineering to teaching] I was at a chamber orchestra concert during my first semester. The conductor was from Argentina, and before it began, he addressed the audience and live stream viewers, saying 'hello' to his family in Spanish. I can't really explain the feeling that came over me then, other than it was an epiphany," said Venturella. 
According to students at Tyrone, teaching Spanish was the right career decision and the perfect path for her.
"Miss V is very nice and helpful. She understands when to switch from Spanish to English when students are struggling. I think she'll make a great teacher," said Spanish III student Jayden Graham.
Not only has Venturella's student teaching been a positive experience for her students, but it has been a great learning opportunity for her as well.
Venturella is especially appreciative of Mrs. Sechler and everything that she has learned from her.
According to Sechler, Venturella's strengths are her classroom presence and her voice.
As far as advice for her student teacher as she begins her career, Sechler said "sometimes things don't go as planned, but you just make the best of it. Also, remember that every student has a story and you have to consider that story when teaching daily."
When she finishes her student teaching and graduates in May, Venturella plans to find a job in Pittsburgh or leave Pennsylvania to teach in another state.
She is also considering going to Spain to teach English to students there.  
When asked if she had any advice for her students she said "Be authentic and be friends with anyone who interests you. Follow your interests, not cliques."