Tyrone Soccer Coach Hired as New Phys Ed Teacher
Lady Eagles soccer coach Lindsey Kanuch was hired this summer as the district's newest physical education teacher.
Kanuch has been working at the school for over a year now starting out last year as an assistant junior high girls soccer coach and later in the year as a long-term substitute for Mrs. Hartman.
When the school offered her a full-time position in the Phys Ed department, Kanuch did not hesitate to accept the job.
Kanuch attended Lock Haven University for Health and Physical Education for K-12. She has been working as an educator for nine years. Prior to coming to Tyrone, Kanuch taught three years at Standing Stone Elementary in Huntingdon, and four years at Valley School of Ligonier.
"
I love working with students! It's one of the biggest perks of the job.
— Lindsey Kanuch.
Before settling on majoring in Health and Physical Education, Kanuch began college at Lock Haven as an elementary education major.
"I knew I wanted to go to college and my mom suggested I go for teaching," said Kanuch.
Kanuch is from the small town of Belleville, PA so Tyrone feels familiar with her.
"I love the small-town feel and I love the size of the school," said Kanuch.
Kanuch's favorite part of the job is getting to know the students and watching them grow and improve their skills.
"I love working with students. It's one of the biggest perks of the job," said Kanuch.
One of Kanuch's passions is soccer. Last season she was the assistant coach of the girl's junior high soccer team and this year she moved up to become the head coach.
Soccer has played a big role throughout Kanuch's life.
"I have been around soccer since I was four years old and I couldn't imagine having a fall where I am not around it," said Kanuch.
She enjoys coaching and loves working with the girls.
Despite her current position, Kanuch says didn't always want to be a teacher. When she was little she wanted to be a postal worker when she grew up. "I loved the color blue, the idea of walking all day, being outside, and getting to see lots of dogs," said Kanuch.
In her new position at Tyrone, she still gets to be outside and walk, but she's now partial to black and orange over blue and golden eagles over dogs.
In her free time, Kanuch enjoys working out, baking, and attending Penn State football games.
Leave a Comment
About the Contributor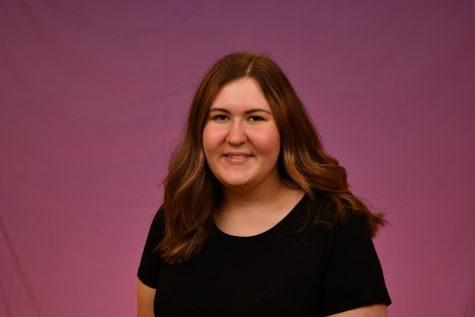 Riley Lawson, Staff Writer
Hello! Riley Lawson is a Senior this year; this is also her third year in Eagle Eye as a staff writer. After high school, Riley plans to go to college...