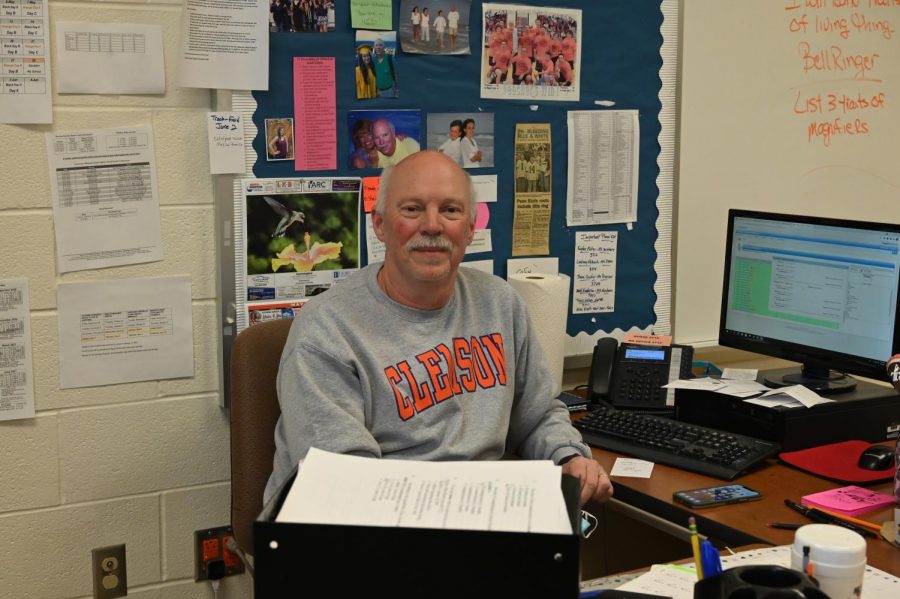 Haydn Loudenslager
After nearly 30 years of service at the Tyrone Area School District, sixth-grade health teacher Scott Bouslough has decided that it's time to retire.
The son of two educators, Bouslough knew early in life that he wanted to follow in his parent's footsteps and become a teacher.
After graduating from Central High School he continued his education at Penn State University, where he received his bachelor's degree and teaching certification.
Over the years, Bouslough has taught many subjects and grade levels, but most current students know him as their middle school health teacher and/or high school behind-the-wheel drivers ed instructor.
Students credit Boslough for his enthusiasm, kindness, sense of humor, and his avid enthusiasm for all things Penn State related.
"Mr. Bouslough was a really good teacher. He always kept us engaged in the lesson. We would play trivia games in advisory, and he would give us Tootsie Rolls," recalled former student and current TAHS senior Courtney Williams. "He always joked around and made us laugh. Even while behind the wheel he was very patient with everything you would do. Mr. Bouslough will be missed by everyone at Tyrone."
"He is a very hardworking teacher and made sure each and every student got their work done," said sophomore Jonathon Toto.
Bouslough says that he adores his sixth-grade colleagues and will miss working with the staff on a daily basis.
"He has always had a great sense of humor," said Tyrone sixth grade teacher Steve Stoner, "Mr. Bouslough always did things to make each of us feel appreciated, which was so nice."
Former students often visit Bouslough whenever they can. He enjoys getting to catch up with them and see how much they have grown since sixth grade.
"Mr. Bouslough will be missed on the sixth-grade team and throughout Middle School. He is a teacher who connects with the students best while teaching health." said fellow sixth-grade teacher Robyn Chamberlain. "He has always enjoyed teaching about the heart and ways to promote an interest in health careers."
While students won't be seeing him during the school day in the fall, Bouslough plans to continue his role as a behind-the-wheel driver's ed instructor.
In retirement, Bouslough hopes to devote more time to building his woodworking business, spend more time camping with his family, and just be outdoors as much as possible.
Mr. Bouslough always made learning new things fun, no matter what it was, and he will be dearly missed by his former students and staff.
"Mr. Bouslough was an awesome teacher and cared about each of his students. He goes out of his way to show support," said sophomore Reese Wood.