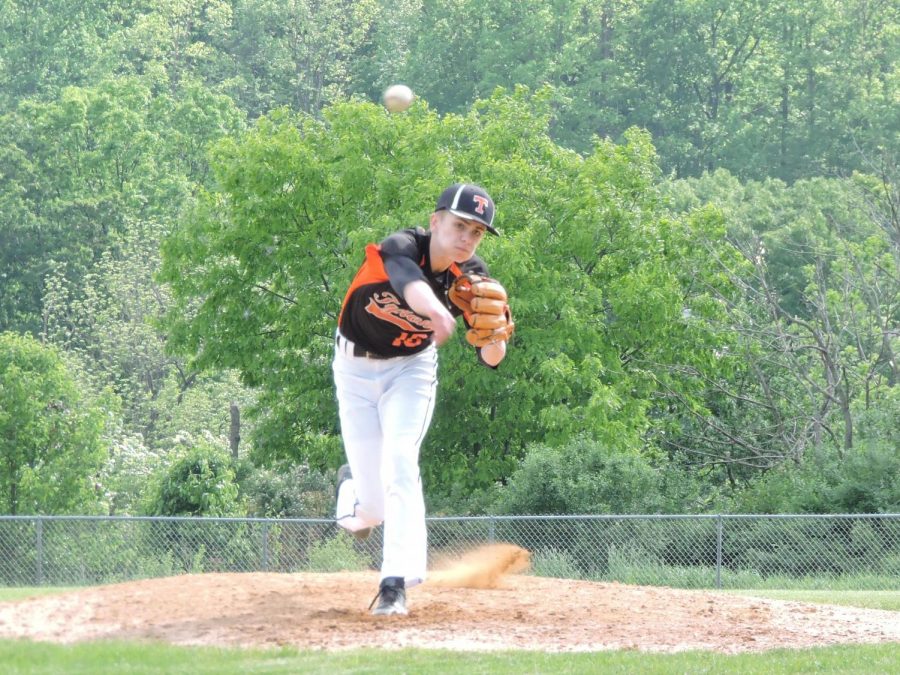 The Tyrone Golden Eagles defended their number one seed and home field advantage Monday night against Penns Valley in the opening round of the District 6 playoffs. Tyrone got revenge for their earlier 9-4 loss to the Rams on senior night with a 10-0 mercy rule victory.
Sophomore Rodney Shultz pitched all 5 innings for Tyrone. He was near perfect, holding the usually high powered Penns Valley offense to only one hit. Shultz picked up his 7th win of the year.
"We hit the ball well and got the run early to get them mentally checked out and every we inning the D made the plays needed to get the win" said Shultz.
Tyrone's offense was led by one of the most overlooked hitters in the Mountain League. Colson Lewis led the offensive charge with 2 hits while driving in 4 runs.
After a slow start to begin the season, Lewis has lately been one of Tyrone's hottest hitters.
Fresh off a scary ankle injury in the season finale, senior Andrew Pearson also picked up where he left off with 2 hits and 2 RBIs on the night, including the game winner.
Tyrone never allowed Penns Valley to have any hope of a repeat upset. They jumped out early with 3 runs in the first inning and never looked back.
After their taking a three run lead in the top of the first inning they came out in the bottom of the second with the same energy. They added two more runs to the lead taking a 5 run lead threatening to blowout the Rams.

Tyrone blew the game open in the bottom of the third with 4 more runs adding to their already sizable lead. They led 9-0 after 4 innings.
Tyrone got the winning run in the bottom of the 5th when Andrew Pearson lined a base hit up the middle scoring Bryce Hunter from third, giving Tyrone the 10-0 lead ending the game.
Tyrone looks to take the next step in winning the District 6 Championship when they take on Mount Union on Thursday at home in a rematch of the season finale where Mount Union embarrassed the Golden Eagles.
BOX SCORE
PENNS VALLEY (0): Shaffer cf 200, Breon lf 200, Treaster 1b 200, Snyder c 100, Russell 2b 101, Lieb p 100, Tobias p 100, Sweitzer rf 200, Darlington 3b 200, Brinker ss 100. Totals — 16-0-2.
TYRONE (10): Pearson cf 332, Lewis lf 302, Lehner 2b 211, Lehman c 300, Lucas 3b 301, Savino ss 301, Light 1b 311, Shultz p 202, Hunter rf 321, Hoover cr 010, Vipond cr 020. Totals — 25-10-12.
SCORE BY INNINGS
Penns Valley 000 00X X– 0 1 4
Tyrone 324 01X X–10 12 1
E–Snyder, Wolfe, Tobias, Brinker, Savino. RBI–Lucas, Savino, Pearson 2, Hunter, Lewis 4, Lehman.
PITCHING
Penns Valley: Lieb (LP), 1• IP, 6 H, 2 K, 2 BB, 5 R, 4 ER, 49 pitches; Tobias 3ª IP, 6 H, 1 K, 1 BB, 5 R, 5 ER, 58 pitches.
Tyrone: Shultz (WP), 5 IP, 1 H, 2 K, 0 BB, 0 R, 0 ER, 57 pitches.
Records: Penns Valley (8-12); Tyrone (18-3)