Shaw's Historic Night Leads Eagles Past P.O.
Shaw shatters record, leading Eagles to 5th straight win.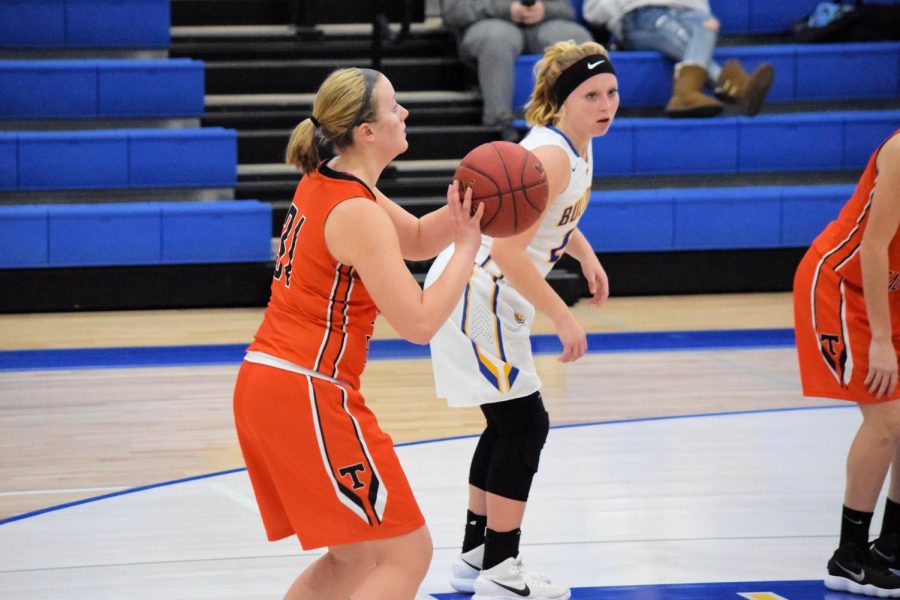 Led by junior Sydney Shaw 41 points and senior Emily Lehman 16 points, the Lady Eagles stomped over P.O. 89-62 capturing their 5th straight victory. Shaw now owns the Tyrone record for most threes in a game 13 and points in a game with 41.
"I'm proud to have broken the records, and I owe it to my team for setting me up to be able to achieve that," said Shaw.
"
"I'm proud to have broken the records, and I owe it to my team for setting me up to be able to achieve that.""
— Sydney Shaw
The Lady Eagles explosive offense was backed up by their lockdown defense, they forced seven turnovers which allowed them to push the ball down the court and get easy fast break points.
The Lady Eagles knocked down a team-high 18 three-pointers with 13 of them coming from junior Sydney Shaw.
Tyrone started slow, they could not get any shots to go down. The first quarter came to a close with P.O. holding a commanding eight-point lead, 20-12.
The second quarter was dominated by the Lady Eagles on both sides of the ball. They held P.O. to only 12 points for the quarter while putting up 24 themselves. The first half ended with Tyrone holding a slim 4 point, 36-32 lead.
The Lady Eagles came out of halftime red-hot, opening the second half on a 16-6 run. The Lady Eagles could not miss a shot as they were knocking down almost every shot they took.
Tyrone once again came out in the third quarter putting up 32 points while once again holding the usually explosive P.O. offense to only 18 points. The Lady Eagle dominated third quarter came to a close with Tyrone holding a commanding 68-50.
The Lady Eagles followed up their dominant third quarter, with another dominate shooting performance, not letting P.O. mount any sort of a comeback. The game ended with the Lady Eagles once again victorious 89-62.
With the Lady Eagles once again providing a convincing victory including their third straight victory, they move to 8-6 on the season, but they are now own a 6-1 record in the Mountain League, which places them in a three-way tie atop the Mountain League.
BOX SCORE
PHILIPSBURG-OSCEOLA (62): Herrington 11 4-4 30, C. Hughes 0 0-0 0, Potter 8 1-2 21, Kennedy 2 1-2 5, aines 0 0-0 0, L. Hughes 2 0-0 4, Bordas 1 0-0 2. Totals — 24 6-8 62.
TYRONE (89): Kosoglow 4 2-2 10, Fusco 2 0-0 6, Sh. Shaw 1 0-1 3, Ronan 1 0-0 2, Wagner 0 5-6 5, Saltsgiver 0 0-1 0, Jackson 0 0-0 0, Greene 0 0-0 0, Johnson 2 0-0 6, Sy. Shaw 14 0-0 41, Kohler 0 0-0 0, Lehman 7 2-5 16. Totals — 31 9-15 89
SCORE BY QUARTERS
Philipsburg-Osceola 20 12 18 12 — 62
Tyrone 12 24 32 21 — 89
3-point goals: Philipsburg-Osceola 8 (Herrington 4, Potter 4); Tyrone 18 (Sy. Shaw 13, Johnson 2, Fusco 2, Sh. Shaw).
About the Writer
Michael Stoner, Sports Editor
Hi, I'm Michael Stoner. I'm currently a senior at Tyrone Area High School, and this is my third year as a member of the Eagle Eye staff. This year,...