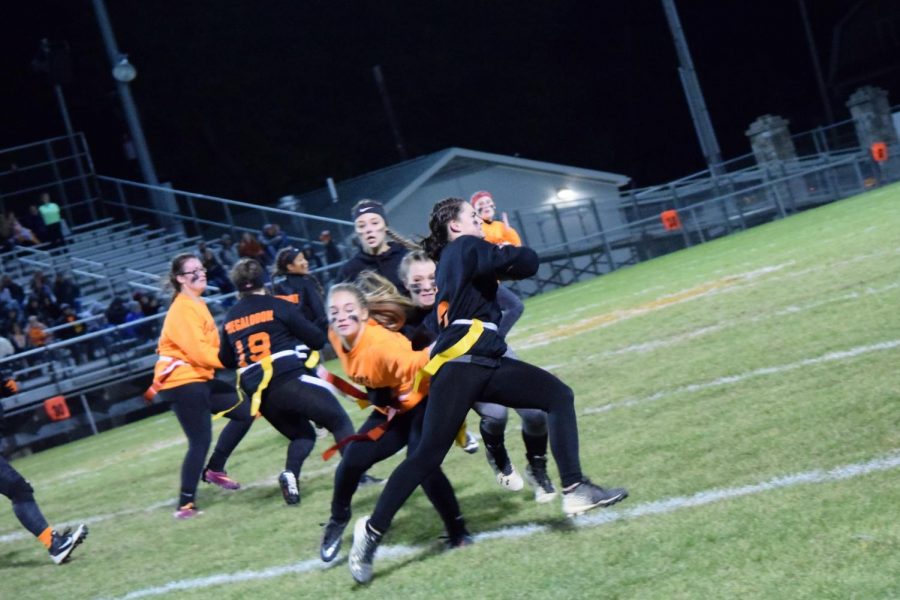 The Juniors and Seniors will face off in the annual Tyrone High School Powderpuff Flag Football game this Wednesday night at Gray Field.  Kickoff is at 7 pm.
Both teams have been practicing for weeks and are ready to prove which class is more athletic.
A lot is on the line for both teams. The Seniors will go for the rare accomplishment of back-to-back Powderpuff titles. The Juniors will try to upset the defending champs and start their own dynasty.
"No one wants to look back and say they lost their first, or last, Powderpuff game," said Junior Head Coach Dean Grassi.
With everyone returning the Seniors will have a familiar look this season.
Senior Reagan Wood is the starting quarterback. Winnie Grot will provide speed and elusiveness out of the backfield. The starting wideouts will likely be Bri Decker and Elise Gailey.
Senior Head Coach Brandon Homan is positive about the outcome of the game.
"I'm confident in our execution and understanding of the game. I know that I can rotate everybody at their positions and have no weak spots," said Homan.
Homan also added that Junior assistant coach Nick Lewis eats cereal with a fork and puts mustard on his hot dog, which, according to Homan, should give the Seniors the edge.
With the win last year some of the weight is off of the Seniors shoulders. Although minor adjustments were made in the off-season, the seniors won't fix what isn't broken, and plan to come out with a similar offense and defense to what they ran last year.
"Last year's game gave us a chance to figure out exactly what we needed to do. So this year we're coming in more prepared and focused. It's going to be a great game," sad senior Reagan Wood.
However, the Seniors cannot be overconfident. The Juniors are hungry for a win and bring a lot of talent to the table.
The starting quarterback for the Juniors is Shannon Shaw.  Ella Pearson will be the starting tailback. Lyndsey Fleck and Hannah Long will play wide receiver.
"Expect to see a performance of hard-nosed, fast, physical, Class of 2021 Powderpuff football… I don't think the American sport of Powderpuff has ever seen this type of talent and work ethic in a team. My condolences to the seniors," said junior coach Nick Lewis.
Being new to the Powderpuff game they have to adapt and making the right decisions, but the Juniors are looking forward to proving their team is superior.
"I'm pretty confident that we know our plays well and we will work together to hopefully get a win," said junior Ella Pearson.
Junior coach Brandon Lucas added confidently, "the Juniors are gonna take the win."
Both teams have fast, athletic players so the key for both will be to slow the game down and take it one play at a time.
One thing that for certain can be expected out of the game: it's going to be a fight.