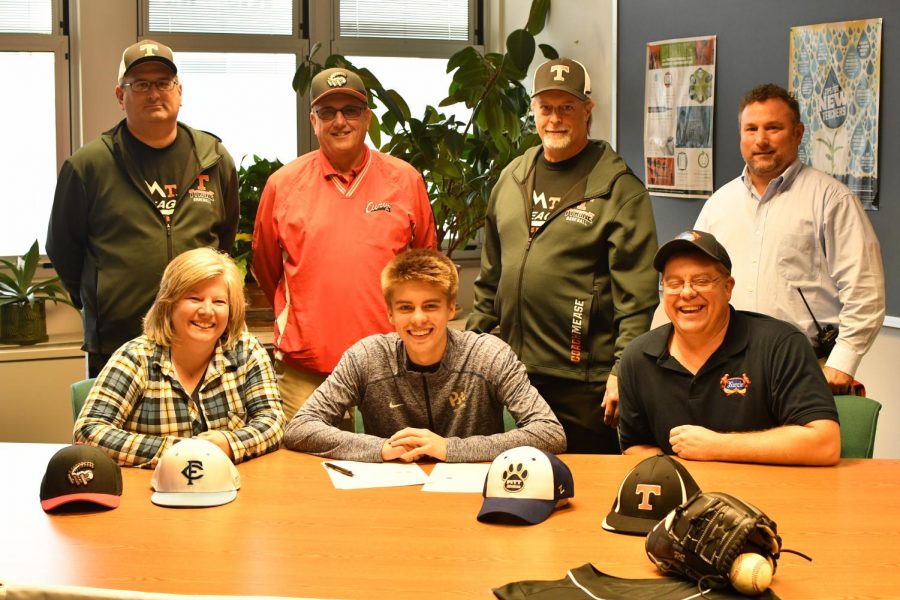 Todd Cammarata
Tyrone senior baseball standout Rodney Shultz signed his letter of intent yesterday to continue his athletic and academic career at the University of Pittsburgh at Johnstown.
Shultz will join the 2021-2022 UPJ baseball team as a right-handed pitcher.
Tyrone Head Coach Kevin Soellner is excited for Shultz and knows that UPJ is getting a leader that they can build their future rotation around.
"Rodney is hardworking, determined, a great teammate, and will do whatever you tell him. He is very dedicated to the sport and pays attention to the small, important details," said Soellner.
Shultz has been a key part of the Golden Eagle baseball team's success over the past several years and helped lead the team to a Mountain League title in 2019.
The team was expected to repeat as Mountain League Champs in 2020 and had hopes of going deep into the PIAA playoffs, but his junior season was lost to the pandemic.
As a sophomore in 2019, Shultz had a 7-1 record in ten starts, with 28 strikeouts, and an outstanding 1.46 ERA.
As a hitter, Shultz had a .407 average with 12 runs and 11 RBIs.
In the field, his fielding percentage was a rock-solid .954 with 29 putouts and 25 assists.
Shultz's love for the game started in t-ball and he hasn't stopped playing since.
Shultz has also been a part of several other elite teams, playing for the Curve Jr. US Elite, Flood City Elite, and Nittany Heat travel teams.
The upcoming 2021 season will be Shultz's last for the Golden Eagles before he is off to UPJ.
In addition to UPJ, Shultz received offers from Penn State, Miami of Ohio, Binghamton, Gardner and Webb, Seton Hill, and Millersville. After much deliberation, Shultz decided UPJ was the best fit for him.
His reasoning for choosing UPJ was based on location, competition, and playing time.
"It's is close to home, has state of the art training facilities, and a competitive conference where I can play right away," said Shultz. "Thank you to everyone who got me to where I am today and thank you to all my friends and family for the support."