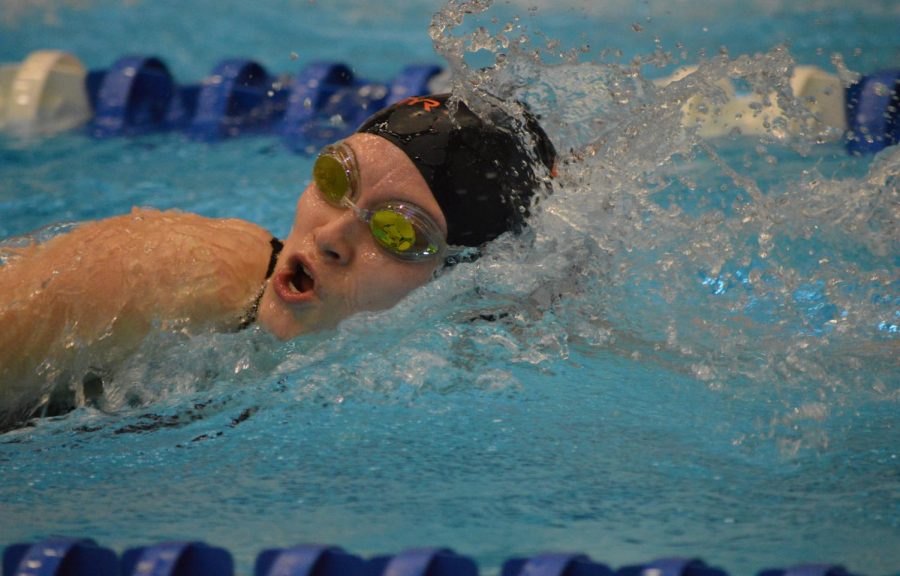 Nick DelBaggio
Tyrone swimmer Madison Coleman will further her academic and athletic career at Penn State University Altoona campus in the fall.
Coleman has played a huge role on the Tyrone swim team for the past four years. She was undefeated in dual meets throughout her high school career in her signature event, the 50 freestyle. Coleman also was the team leader in points scored each of her four years.
"Madison is one of the best swimmers to ever come through Tyrone's program," said Tyrone Head Coach Tom Getz. "I've been around her for close to 10 years. She was a joy to coach and it was a privilege to watch her grow, not only in swimming but as a young lady."
Coleman qualified for the district championships all four years of her TAHS swimming career in the 50 and 100 freestyle.
"Madison brought a great work ethic, leadership, and sportsmanship to the team at a very high level. She was a great supporter of her teammates and always had a smile on her face, but when it was time to race, her competitiveness came out and she was ready to go," said Getz.
According to Coleman, she is most proud of being named a four-time First Team Mountain League All-Star. Coleman was also less than .10 of one second from setting a new school record in the 50 freestyle.
"Even though I didn't get to break a record, I have improved all of my times," said Coleman.
Coleman was also a four-year captain of the team, a four-time Altoona Mirror Swimming All-Star, and placed within the top six at districts in the 50 freestyle every year of her high school career.
Coleman couldn't name one specific favorite memory of her swimming career, but after some thought, she said that just being with her team and cheering everyone on was the best part.
It didn't surprise teammate and fellow senior swimmer Sarah Hoover to learn that Maddy's favorite swimming memory was cheering on her team.
"Maddy is a phenomenal teammate. She always cheered on every single person on the team and gave it her all in every event. There was never a time Maddy didn't give 100% whether it was practice or a meet," said Hoover.
Coleman is excited that her competitive swimming career is not over and she is looking forward to joining her new team at Penn State Altoona in the fall.
"I would not be surprised if she is a contributor from day one based on her work ethic and talent," said Getz.
PSUA competes in the Allegheny Mountain Collegiate Conference. Some of the schools in the conference include Alfred State College, Pitt Bradford, Pitt Greensburg, and Mount Aloysius.
"Maddy is going to help strengthen the Penn State team and make us proud. I am so thankful to have competed with Maddy and I cannot wait to see how far she goes in life," said Hoover.
The PSUA girls swim team in the 2019-2020 season had a record of 4-8, and in the 2021 spring season the team is currently 0-1.
"My plan always was to attend Penn State Altoona, and knowing they had a swim team made my choice even easier," said Coleman.