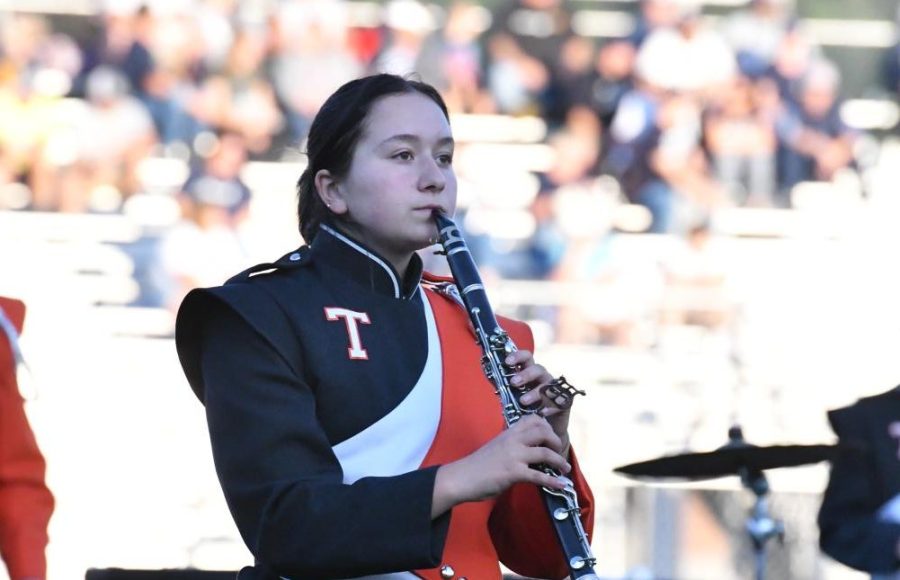 Hailey Vanish
Tyrone senior marching band member Laci Daniel is a hard-working and dedicated musician whose love for music began at a very young age.
"Ever since I was little I've been drawn to everything dealing with music. My parents have had a huge impact on my love of playing different instruments, getting me different ones all throughout my life and always motivating me to play them," said Daniel.
Band Director David Hock has been working with Daniel for eight years and has always thought very highly of her.
"Laci has improved a lot. It's hard to measure the amount, but she developed into a very talented musician who we've come to rely on," said Hock.
Daniel is a part of many activities outside the band. She is also a member of the Jazz Band, Indoor Percussion, NHS, and Speech Team.
"I knew marching band was for me after I had learned about my 8th-grade show "Dreams of Persia." The feeling of having accomplished something so daunting made me realize that I want to continue band throughout my high school career. I have had that feeling ever since," said Daniel.
The dedication she shows to the band pushes the other members to do their best. Daniel a big sign of inspiration and confidence.  In March of 2022, she won the Outstanding Performer of the Week Award at the Huntingdon Indoor Percussion show.
"Laci is going to do so great with her future. I've never met a sweeter soul than yours. She is beautiful in and out and I'm so grateful for you," said drum major Kaleigh Brodzina.
Daniel also enjoys crafts such as knitting and crocheting, as well as playing guitar on her own time.
After high school, Daniel would like to attend Penn Highlands for two years to earn her associate's degree, then transfer to Mount Aloysius to earn her Bachelor's degree in nursing.
Daniel wants to become a labor and delivery nurse or possibly a NICU nurse.
Her advice to the underclassmen in the band is to relax and take a deep breath.
"While senior year is one of much importance, it is also a year to celebrate making it this far both in the educational system and in your own life. You're almost done with this chapter, so make it a good one," said Daniel.