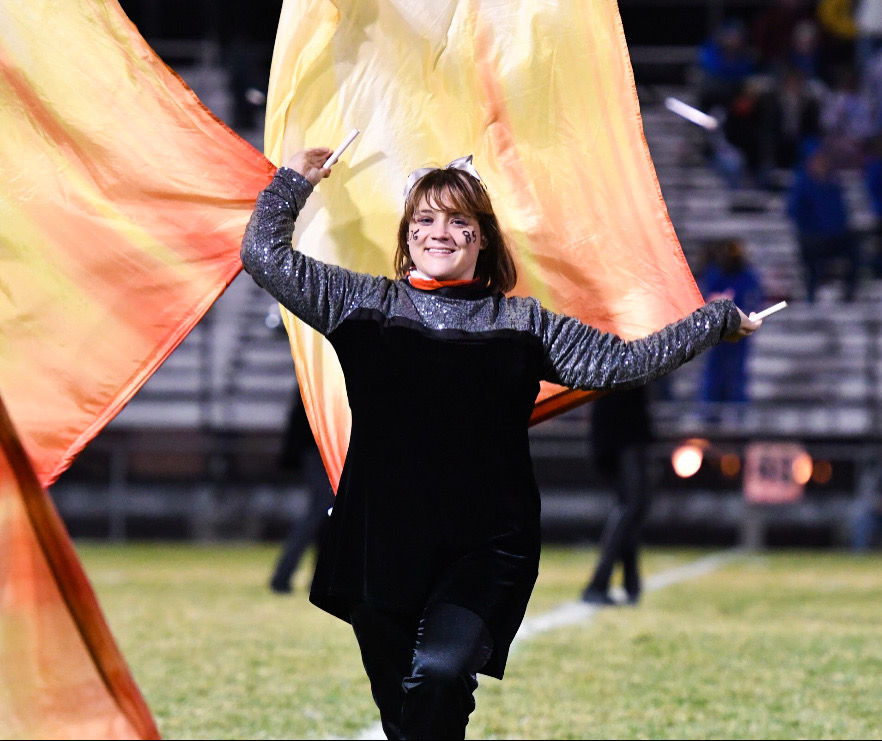 Lucia Isenberg
Senior Madison Wineland has been a bright and enthusiastic member of the color guard and twirlers at Tyrone ever since she started twirling 13 years ago.
Color guard and twirling instructor Marcia Fink appreciates the experience and excitement Wineland has added to the group.
"Madison has added her years of experience to the twirling and quickly learned the flag work. Maddison brings excitement to the group and always performs with a smile," said Fink.
Wineland will attend Washington and Jefferson College in Washington, PA in the fall.
Wineland was also involved in YAN, FBLA, Student Council, Star-Lite Twirlers, Indoor Competition Team and Marching Group, and National Honor Society.
Wineland was the band front's representative at homecoming in the fall.
Sophomore Mckenzie Weaver knows that when Wineland graduates they will lose a great asset to the team.
"Maddie graduating is going to impact the team in a way we do not realize. She has such a positive attitude about everything, and her graduating means we are losing not only an amazing twirler and asset to our team, but we are also losing a beautiful and kind friend," said Weaver.
Wineland has been to many competitions over the years, but the year her team won twice in a row truly hits home for her.
"My biggest accomplishment would be when we won Wildwood with my twirling team two times in a row," said Wineland
Weaver knows that when Wineland graduates, the team will be losing one bright person, who was always there when someone needed her.
"I will miss having Maddie's positive energy around. She has been there to make the bad days not so bad and the good days even better," said Weaver.
Since joining twirling, she has made many memories, but going to band and twirling competitions are some of her favorite memories.
"All the competitions and football games are my favorite. Everyone is having fun and laughing. It's just a good time. Or my homecoming night when it just felt magical," said Wineland.
Wineland has always been someone that many people have looked up to and went to for advice. She wanted to leave everyone off with one final piece of advice.
"Always have fun, and don't take everything seriously. There is time for you to be serious when you grow up. So have fun with your friends," said Wineland.