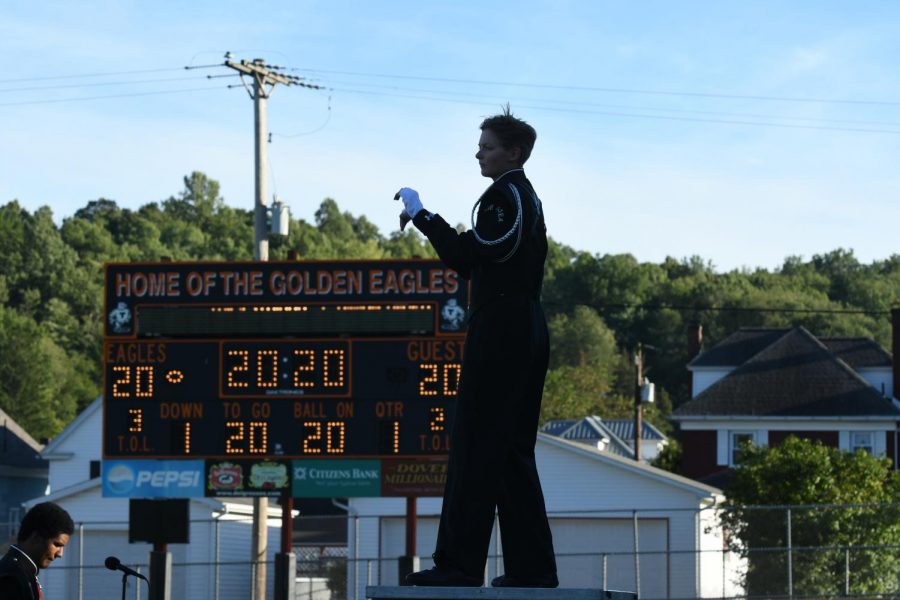 Ellie Oakes
Senior Richard Webster has been a member of the Tyrone Marching Band for many years, and many band members look up to him for his positive outlook on life and outgoing personality. Webster has had a major impact on many people over the years and will be missed next year.
"The impact of Rich leaving the band will be pretty hard. I'm very close with him and it will be very different and hard to see him go. Even though he has good plans for the future so that's all that matters," said fellow band member Xena Sieminski.
After graduation, Webster plans to join the Army Reserves, and go to college to major in physical therapy and minor in business management and music.
With Webster ready for the future, Tyrone Band Director David Hock appreciates his dedication to the band over the years.
"Richard has been extremely hardworking and dedicated to the band, thus being an excellent role model and leader. The students look up to him and he is willing to help others learn. He also plays a lot of roles in the band, as a leader, drum major, friend to others, and playing multiple instruments in various ensembles," Hock said.
Richard is in many other activities besides Marching Band like Jazz Band, Indoor Percussion, Ski Club, and Cross Country. Though many people look up to him, they also look to him for advice.
"I don't know what the future holds. No one does. So don't stress so much about it and just go with the flow of things. Because if you focus too much on the future, then you will miss everything going on around you," Webster said.
Richard is one of the drum majors for the marching band along with Becca White who believes it has been an awesome experience they've had as drum majors together.
"Being a drum major with him was amazing. He was such a great leader, I was honored to be drum major with such an awesome musician," White said.
While being drum major, he has developed a love for music over the years. Webster has been in the band for a total of 8 years and is hopeful that he will be able to continue playing music in college.
"I want to [join the band in college], but depending on my schedule I might not be able to. If I can't I would like to join or start my own band to create my own music," Webster said.
Webster has been involved with music since 4th grade and ever since then he's been growing his musical abilities.
"I started getting into music when we played the recorder in 4th grade. Then I decided to play an instrument and chose a clarinet. And from there my music career took off and I started picking up more instruments over the years," Webster said.
Drum major Becca White knows that Webster will be missed once he graduates.
"The band won't be the same without him, everyone will miss him so much, but I will especially miss his humor, and how he was always positive and ready to have fun," White said.