School District and Area Volunteers Offer Food Assistance to Families During COVID-19 Crisis
With the COVID-19 crisis closing schools as well as many businesses, local parents may find themselves without a paycheck for at least the short term, maybe longer. This will cause many hardships for families, including providing their children with breakfast and lunch that they normally would have received at school.
In order to help families in need, the school district and a local volunteer organization are stepping up to provide food to students while the schools are closed.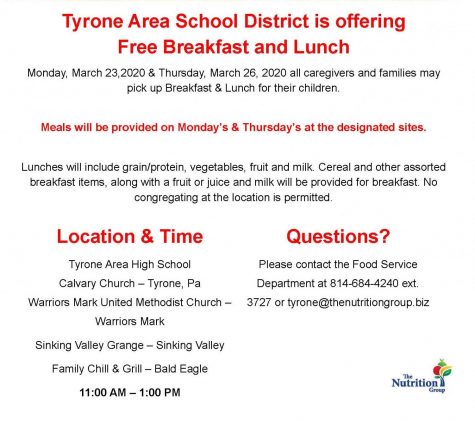 The Tyrone Area School District is working with The Nutrition Group to provide food pickup for families twice a week in the Tyrone area. In addition, the Golden Eagle Backpack Program is also expanding their mission to help families with children to get by.
This week the school district established pick up points for breakfast and lunch food in Tyrone, Warriors Mark, Sinking Valley and Bald Eagle on Mondays and Thursdays.
For more information about the school district program click here and to RSVP for food pick up, click here.
"We are asking for families to RSVP, but they are not required to. The RSVP helps us prep so that there is very little waste, if any at all. It also helps us stay ahead and potentially from running out at any given location," said Tyrone Nutrition Group Director Amanda Grove.
According to Grove, the district has already received over 560 requests for food deliveries from area families.
Residents who show up at the pick up points are asked to stay in their car. Meals will be brought to them, and it is suggested that they open their trunk to reduce exposure for them and the volunteers.
The Golden Eagle Backpack Program has also expanded its mission in to help families in need during this crisis.
Before the district began offering regular meals this week, the Backpack Program was distributing more food than what they normally provide for  needy students on weekends.  However, now that the school program is up and running they have decided to scale back their distribution while still offering additional help to anyone in need.
"After discussion with Tyrone they felt that since they were sending home seven days worth of meals that we would not be there at the same time to distribute backpack bags," said Backpack Program volunteer Amy Marten-Shanafelt.
However, any families that are not able to get to one of the school's pick up locations for food, or have other special circumstances should contact the Backpack Program and they will provide food resources through it's program.
"If anyone is unable to get school meals or any other support with food than we are asking them to reach out to us so we can arrange to get food to them," said Marten-Shanafelt.
"
We know things are changing every day for families in our communities. We hope everyone is able to stay healthy and if there is a need for food, we are here to help"
— Amy Marten-Shanafelt
Last week the Backpack Program distributed over 100 boxes of food to families in Tyrone and Bellwood.
The program will continue to evaluate the needs of the families and will help as much as they can to get everyone through this difficult time.
Participation in the Backpack Program is not limited to children that qualify for free or reduced lunches. To sign a child up for the program, parents should fill out the form available on the Northern Blair Backpack Program website or download a hard copy of the form HERE.
Before the Coronavirus crisis, backpacks were only available to students in kindergarten to eighth grade. However, in response to the crisis, the group is now making this available to students in all grades, K-12.
The program hopes to maintain this expanded service to include all students, kindergarten through twelfth grade next year.
Most of the food that the Backpack Program distributes comes from the Central Pennsylvania Food Bank located in Harrisburg The average cost is $3.00 per week per child or $100.00 per child per year. Monetary donations are appreciated and can be made on the website as well.
"We know things are changing every day for families in our communities. We hope everyone is able to stay healthy and if there is a need for food, we are here to help" said Marten-Shanafelt.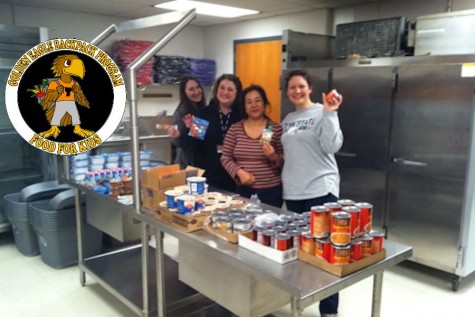 Leave a Comment
About the Contributor
Lindsey Walk, News Editor
Hello there! My name is Lindsey Walk and I am a senior this year at TAHS. This is my second year being involved in Eagle Eye and I am so excited to be...