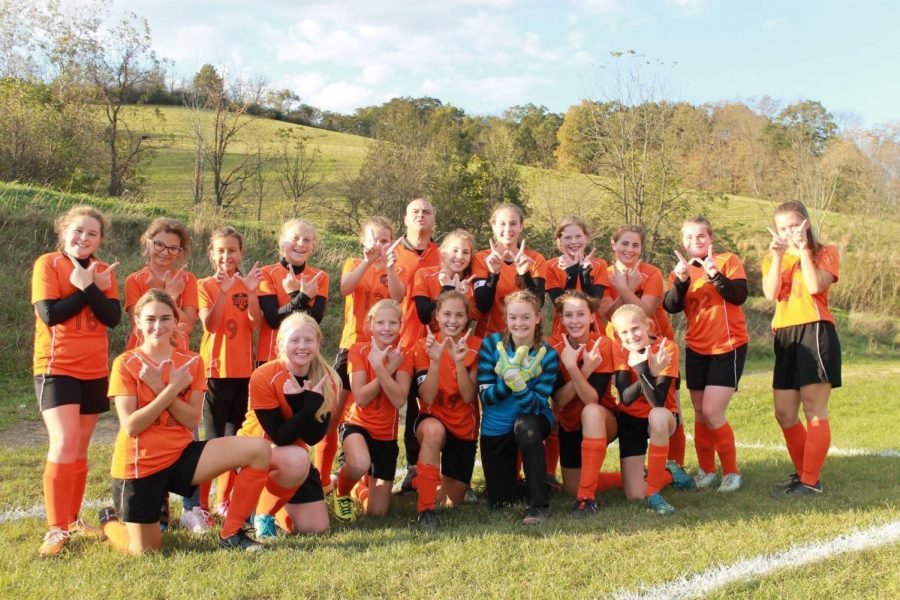 Courtesy of Aaron and Jen Vance
The 2018 Tyrone/Bellwood girls junior high soccer team did something never before accomplished in Tyrone soccer history, an undefeated season. 
Going 16-0, the team scored an amazing 83 goals, while only giving up seven.
The Lady Eagles were led by captains Chloe LaRosa, Eliza Vance, and Rayann Walls, but all of the eighth grade players were team leaders and role models.
One of the keys to their success was that most of the girls have played together since they were five or six years old, so it was easy for them to bond as a team.
With the bond they created, they were able to accomplish all the goals they set for themselves, plus one that that they didn't consider at the beginning of the season.
"The goal was to play as a team. They wanted to be sure to stay positive and support each other even when a mistake was made," said Head Coach Alan Walls, "They lifted each other up and were really able to be there for one another on and off the pitch. [Then,] with only three games left in the season they set an additional goal to have an undefeated season." 
Although the team was undefeated, they still had some tough games.
One of their biggest wins of the season was at home against Bald Eagle on October 8th. The Lady Eagles had beat BEA 4-1 just four days earlier, but on this occasion Tyrone struggled to put the ball on goal, but captain Eliza Vance came through and scored late for the 1-0 win.
"When [Bald Eagle] came here to play they wanted a win and made several cheap shots in the process. I was very proud of well our team handled the added pressure and gracefully pulled out another win," said Coach Walls.
During the season, the team improved on their skills and working together as a team. They worked all season long and didn't give up.
"My favorite part of the season was hanging out with the girls and improving my soccer skill, so I could get better and have new friends," said captain Eliza Vance.
"Each one of these girls improved with every game we played from footwork skills to amazing passes and rotating positions at any given point in a game. This team truly played with heart and teamwork all season long always willing to work hard at practices to be ready for the next challenge," said Coach Walls.
For the past two years, captain Chloe LaRosa has lit up the field scoring goals. LaRosa scored 43 goals this season, over half of the team's total goals. During her two year junior high career, LaRosa scored over 50 goals. 
"Next year, I hope to improve my work and learn more from [varsity head coach] Coach Mike [Sparacino]," said LaRosa.
The goalie, Rayann Walls, had nine shut outs this year. She also never gave up more than one goal in a game.
"My favorite part of the season was seeing how well we did compared to last season and earning all of the goals I had set for myself," said captain Rayann Walls.