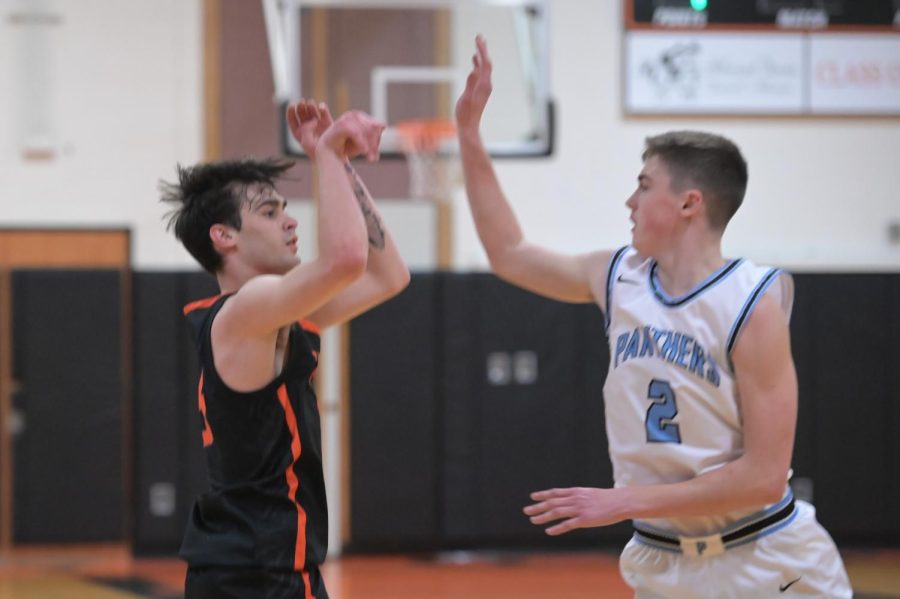 Ellie Oakes
The Tyrone boys gave Penn Cambria a good game full of thrills but in the end, it wasn't enough for the Golden Eagles to advance to the semifinals and get a shot at an ever-elusive District VI championship.
The game started out very evenly with Penn Cambria only up three at the end of the first quarter and also at the end of the half. The two teams went back and forth through most of the third quarter until Penn Cambria built a 6 point lead at the end of the third.
Tyrone got a game-high 23 points from senior guard Landen DeHaas as well as 11 each from junior Ross Gampe and senior David Lang.
Tyrone closed the gap to 44-38 on a DeHaas 3-pointer in the fourth quarter, but that would be as close as the Golden Eagles would come in the final quarter as Penn Cambria held serve to advance to the title game with a 64-55 victory.
Despite the loss, the 2022 season was a successful one for a team that had to replace four starters from last year's squad.
"I'm just so proud of our kids," Tyrone coach George Gripp said. "They left it all out on the floor this season. Penn Cambria was just a lot quicker to the loose balls and rebounds in the second half today."
Tyrone wrapped up the season with a 16-8 record and shared the Mountain League title this year with Bellefonte.
Gripp's Golden Eagles will again lose four starters and five total seniors from this year's squad, which will give a new look to the team next year.
Despite losing so many starters, there is still optimism because Tyrone's talented JV team didn't lose a game all year.
Key returnees for next year will be juniors Ross Gampe, and Zac LeGars, as well as several sophomores with quality playing experience from this year.
BOX SCORE
TYRONE (55): Gwinn 3 0-0 6, DeHaas 10 0-0 23, Lang 5 0-1 11, Gampe 5 1-2 11, Rhoades 1 2-3 4, Johnson 0 0-0 0, Ronan 0 0-0 0, LeGars 0 0-0 0. Totals – 24 3-6 55.
PENN CAMBRIA (64): Gar. Harrold 7 3-4 19, McCarthy 5 2-4 12, Grove 3 2-3 9, Semelsberger 4 4-4 15, Reese 3 0-1 7, Chirdon 1 0-0 2, Murphy 0 0-0 0, Shuagis 0 0-0 0. Totals – 23 11-16 64.
SCORE BY QUARTERS
Tyrone 12 13 10 20–55
Penn Cambria 15 13 16 20–64
3-point goals: Tyrone 4 (DeHaas 3, Lang): Penn Cambria 7 (Semelsberger 3, Harrold 2, Reese, Grove).
Records: Tyrone (16-8); Penn Cambria (19-5).
Officials: Chris Garritano, Jason Moschgat, Dan Amerhein.