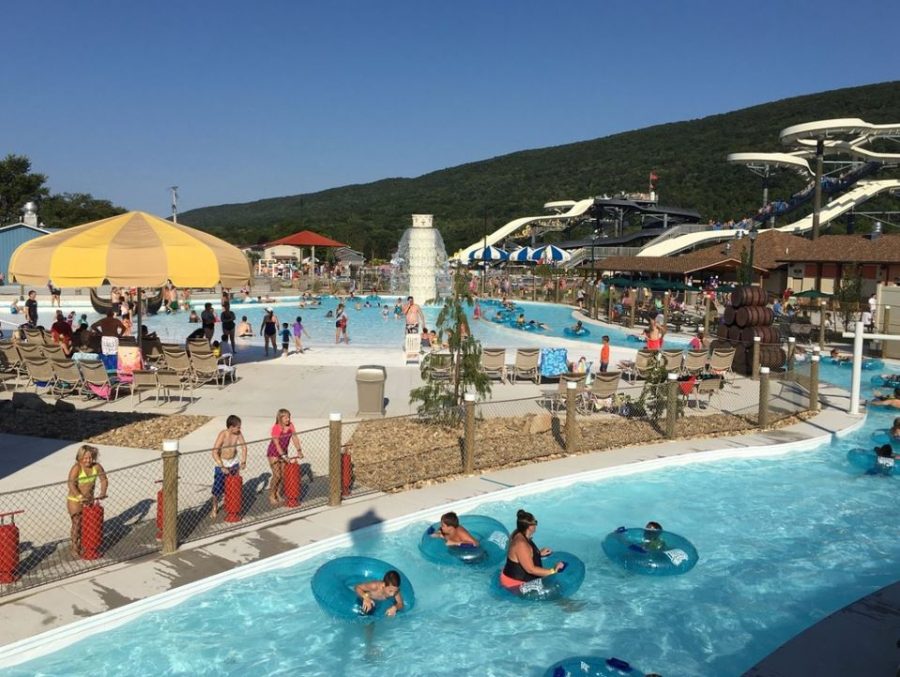 Photo courtesy of DelGrosso's Amusement Park
One of the area's most popular summertime attractions, DelGrosso's Amusement Park and Laguna Splash Waterpark in Tipton, has announced that it will not open for the 2020 summer season due to the coronavirus pandemic.
"Many factors played a role in this difficult decision," said park General Manager Carl Crider Jr. in a statement released to the public on May 15. "First and foremost, the safety of our employees and guests is our number one priority as it has been for 73 years."
The impact of this news will be felt across the region, especially within the Tyrone community.  
Many of the lifeguards, ride operators, food stand workers and other seasonal park employees are Tyrone Area High School students. These students will be left without employment this summer, and many will likely not be able to find another summer job. 
Delgrosso's usually employs between 625 and 700 people a season, mostly teens and college students. Since DelGrosso's is one of the few area employers who will hire workers as young as 14, many younger teens will have little chance of finding other local employment this summer.
Crider said he is disappointed for those who won't have the opportunity to work at the park this season.
"Safety has always been the top priority for us. This is just another facet of that," said Crider.
Sophomore Isabella Rhoades is one of the many Tyrone High School students who was planning to work at the park this summer. She had just received her lifeguard certification and was looking forward to earning a paycheck. 
"It's disappointing because I was really looking forward to lifeguarding and now there are so many people looking for jobs that won't be able to get them," said Rhoades. 
Tyrone mayor Bill Latchford was disappointed to hear that the park would not open, both as a politician and as a parent. 
According to Latchford, his daughter, sophomore Mackenzie Latchford, was planning to work at the park for the first time this summer. 
"Other than the fact that the area will miss a tremendous staple of summer, it was going to be Kenzie's first job. She was really excited. I worked there a couple of seasons in the mid-'80s. It would have been neat to see how she did," said Latchford. 
The sudden closing isn't just impacting the park workers; it will also affect a lot of families, especially those with young children whose summers often revolve around frequent trips to the park.
One of the park's regular visitors is Altoona resident and local mom Stephanie Esgro.
"We are devastated about the park not opening. We spend a lot of time there during the summer with our kids and it's something they look forward to all year long. It also scares me for what the future of the park holds financially with an entire summer closed," said Esgro. 
The local economy will also suffer as DelGrosso's draws visitors from across the region, meaning local hotels, restaurants, convenience stores and other businesses will also be impacted.
While the economic impact to DelGrosso's and the local economy will be high, Crider said he is optimistic that the park will be able to bounce back next season.
"We look forward to returning with all of you in the summer of 2021," said Crider in his public statement. 
Customers who already purchased 2020 season passes or buy-one, get-one food vouchers will be able to use them for the 2021 season.  The park will also add an additional $25 food credit to each season pass as an incentive, according to park officials.
Also, customers with a 2020 refillable cup will be able to exchange their cup beginning in November when next season's items are available.
Even though the waterpark and rides won't be open, some staff employed in the kitchen and food prep areas will still be hired to fill food orders. DelGrosso's will continue its DelGrosso Dinner To Go and will fill other food orders via its website.  
Bellwood resident Brooke Sprankle is a season ticket holder who usually spends three to four days a week at the park.
"It's our home away from home. I'm heartbroken they won't open, but at the same time, I understand,"  Sprankle recently told the Altoona Mirror.