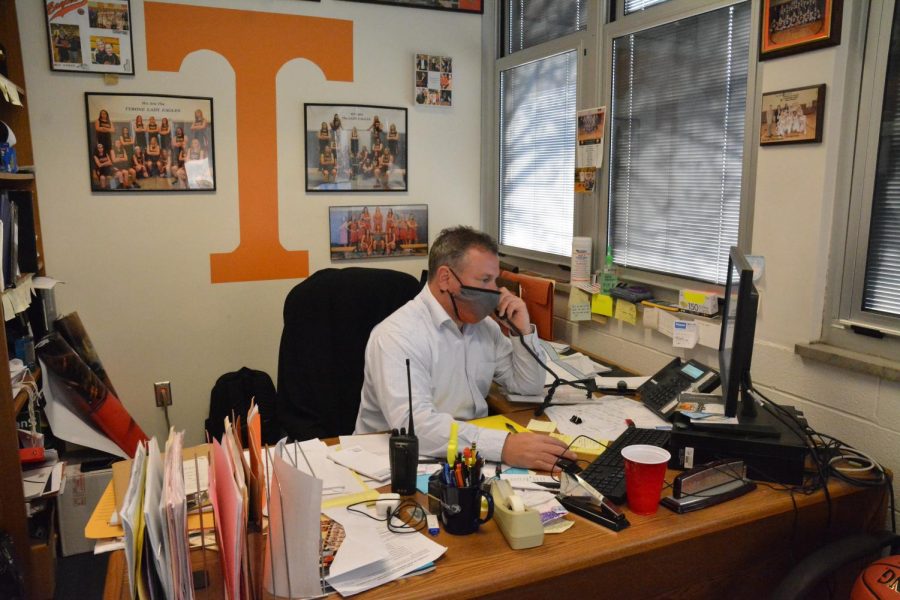 Haydn Loudenslager
The pandemic has wreaked havoc with high school sports across the country, canceling the entire 2020 spring sports season and bringing much uncertainty to both the 2020 fall and 2020-21 winter sports seasons.
The responsibility for managing the ever-changing mandates and cancellations due to COVID as they relate to sports falls on each school's athletic director.
While other schools have simply accepted cancellations as part of the "new normal," Tyrone athletes have had a full slate of games throughout the school year, in large part due to the hard work of Tyrone Athletic Director Lucas Rhoades.
"Athletics and extracurriculars are very important in high school education. It means a lot to the student-athletes and is just as equally important for their physical health, as it is for their mental health" said Rhoades.
Over the past year, Rhoades has spent countless hours working the phones with his fellow ADs, quickly securing replacement games/matches with new schools after any short notice cancellations.
"Mr. Rhoades has done an excellent job at managing all of the extra work that COVID has presented for athletics," said Tyrone Superintendent Leslie Estep.
The boys basketball team played a number of unfamiliar opponents like Loyalsock, Northumberland Christian, Williamsport, and Dubois when their regularly scheduled games had been postponed due to COVID.
The girls also played a few new teams this year with opponents like Villa Maria, Punxsutawney, Indiana, Northumberland Christian, and Mifflin County.
"Although a lot of our games were postponed or canceled this year, Coach Rhoades did an excellent job of finding us games with better competition that have helped strengthen our team," said senior basketball player Brandon Lucas.
In a normal year, the responsibilities of the athletic director are time-consuming, especially in the winter and spring, with the constant rescheduling of events due to weather, but this year with COVID, all those responsibilities were magnified.
Athletic directors have also been responsible for developing new spectator guidelines, procedures for traveling to away contests, protocols for coaches to be used during practices and games, and new game day procedures.
In addition to scheduling opponents, the AD is responsible for securing officials, event staff, ensuring that the venue is open, and communicating changes to the participants and the public.
Thanks to clear guidelines and good communication from the athletic director down to the coaches and athletes, Tyrone was fortunate to avoid major COVID outbreaks on their sports teams, which caused many other schools to miss games or end their seasons prematurely.
However, the year was not without controversy. Some residents were unhappy that they were not able to attend events in person, while others were upset that the sports seasons were being played at all.
"We have had to make some unpopular decisions this year. Those are never easy decisions to make and it is always a stressful situation whenever you know that people are not going to be happy," said Estep, "but Mr. Rhoades has been very good at being proactive about potential issues. He has served as an advocate for students as well."
The coaches have also appreciated Rhoades' efforts. Boys Basketball Head Coach George Gripp had high praises for Rhoades.
"It all starts with the work he puts in behind the scenes, and all the winter sports coaches are very grateful for what he has done," said Gripp.
Rhoades also worked with the Eagle Eye to ensure that every indoor home event and outdoor event with crowd restrictions that prevented athlete's families from attending were all live-streamed so parents and fans would not have to miss a second of the action.
"Even with COVID this season we have been able to watch [all of our grandson's] events from home. Our town is blessed; thank you," said Tyrone resident Wanda Yaudes.