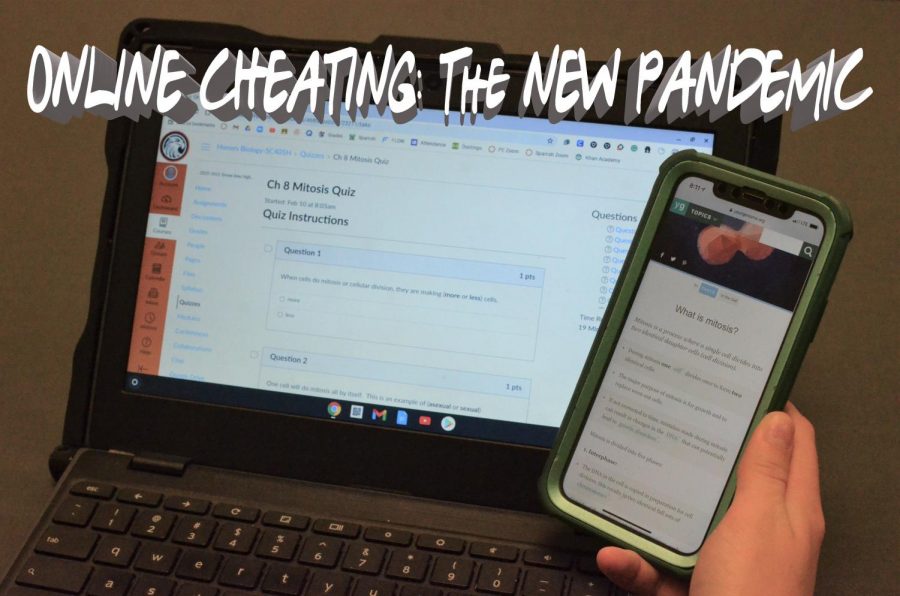 Todd Cammarata
Cheating has been a problem as long as there have been students and tests, but the issue has only been compounded by virtual learning environments where teachers are not able to physically monitor students during exams and in-class activities.
"It is beyond easy to cheat when we're at home. I think a lot of students do it because this year isn't like previous years. If we have our resources at our fingertips to use, we're going to take advantage of that," said one Tyrone sophomore.
With Tyrone currently in a hybrid model of instruction, students are on their computers and submitting assignments online two or three days a week. Despite Tyrone School District's zero-tolerance policy on cheating, teachers are struggling to keep students from cheating on assignments and tests.
Many students believe that cheating is an easy way to boost their grades whenever they are struggling in a class. It takes very little effort for a student to have their notes right next to them or phone a friend while completing a test.
"If students want to cheat, it is very easy for them to do so now that we are at home most of the time. Students cheat because they may feel that they are struggling with retaining the information they are learning and rather cheat than let their grades drop," said one Tyrone High School junior.
Teachers are doing their best to keep up, but it often seems like a losing battle.
The most effective way to combat cheating is to require more project-based assignments that are unique for each student, but those take time to develop and don't work for every class or topic.
"Now that we are hybrid, I make the students take quizzes and tests only on in-person days. When we were 100% virtual, I would utilize question banks to make it harder for kids to cheat," explained one Tyrone teacher who noticed cheating occurring in the classroom.
Teenagers are known for being inseparable from their phones, and many are using them to cheat on online assessments. At home, students can very easily search for answers on their phones, share or compare answers with others, and communicate throughout the test without the teacher knowing.
"Why get a 90% on a test when you can get a 95% by looking up one answer? It beats being stressed out over lower grades than normal, especially when those lower grades are not because you aren't studying for tests or trying to pass, instead, because we are trying to learn in a completely new way that is changing all the time," said a Tyrone sophomore.
In the classroom, cheating with phones can be closely monitored, but when students are taking tests from home, it becomes virtually impossible for teachers to manage.
When asked if they noticed more students cheating in their classes, most teachers said yes. They said that the most cheating happens on higher pointed assignments, quizzes, or tests.
"With being online, cheating is easier for students. They can share answers, talk on the phone, and work together without the teacher knowing," said one Tyrone teacher.
Students think that teachers have no idea that they are cheating, but the teachers who see the rise in grades on online exams and unusually worded answers popping up frequently on their tests, know that something is up.
Teachers are taking measures into their own hands to stop cheating.
"I set time limits and keep the answers hidden. As far as other assignments, I have found the best way to prevent cheating is by making the assignment one that the student has to create independently," said a teacher when asked what efforts they are taking to prevent cheating.
While students take tests online, teachers can check and see if they clicked on any new tabs. There is also a tool on Canvas that shows how long a student spends on a question, and if the student skipped or came back to any questions. If teachers find that a student switched tabs during a test, that's evidence that a student is cheating. Most teachers mark student grades as zeros when they believe that the student was cheating, but it can often be hard to prove.
During virtual learning, some teachers make students keep their videos on during tests. Teachers can then watch students and see if they reach for a phone or paper. Teachers may also be able to spot if someone's eyes dart off-screen for a couple of seconds, as though they are reading something beside them.
Other teachers have given up on online tests altogether.
"I give tests only in person when possible. When it's not possible, I will allow students to use whatever resources are available online or in their textbook. In my opinion, asking students to take tests on the honor system only puts the honest students at a disadvantage, so I either require individual projects where each one is unique or I tell students up front that they are permitted to use outside resources and use the test more as a formative assessment," said one Tyrone teacher.
Although cheating happens in all schools under any circumstances, this year has been particularly challenging. Cheating will always be found within classrooms, but teachers are doing everything possible to prevent it.
The best thing to do if you are struggling in a class is to ask the teacher for help.
"No matter how tempting it is, resorting to cheating is never the correct answer. Teachers are here to help students learn and are happy to more clearly explain a concept a student may be struggling with," said one Tyrone teacher.