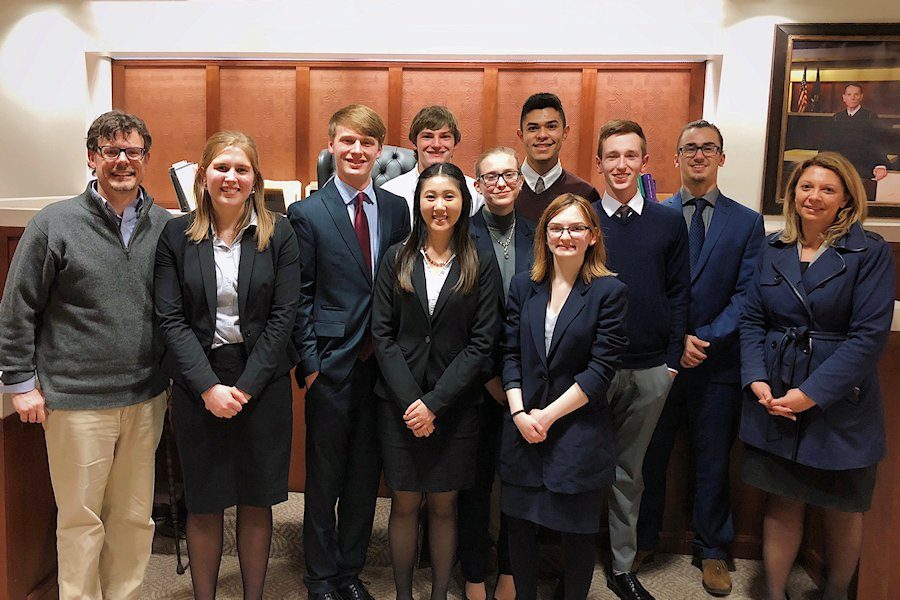 Aimee Willett
Tyrone's Mock Trial A Team won its first district championship in school history over Huntingdon on Tuesday, February 27th, winning on all nine ballots and running Huntingdon out of time before the end of testimony. Senior and team captain Chloe Makdad took home the Best Attorney award.
"This is the perfect example of what happens when you give your everything to your team, and they give everything to you in return. Our success is a product of our dedication," said Makdad.
Sophomore Hanna Denny excelled in her role as Patty Straw, one of the witnesses for the defense. She took home Best Witness honors.
"I was excited when I received my best witness award. I mean, I perfected an Irish accent for this trial so it was nice to be recognized," said Denny.
Each side in a mock trial competition has thirty minutes for testimony, including direct and cross-examinations. After the first half of the trial, Huntingdon had about eleven minutes to spare. This was an unusually short time for three cross-examinations, so sophomore Hanna Denny and senior Zackery Webster worked hard on their cross-examinations to eat away at Huntingdon's time.
After two five and six-minute cross-examinations respectively, Huntingdon was left with two seconds on the clock going into their last cross-examination of senior Jonathan Clifton.
"When Huntington called for a time check and I heard 'two seconds', I had a really hard time believing that. Two seconds is such an absurdly small amount of time. When both timekeepers confirmed it, I was floored." said Webster.
Tyrone's run so far this season has been an impressive one. They finished 2-2 at the annual University of Pittsburgh pre-season competition, and third overall in their first trip to the annual Penn State High School Mock Trial Competition.
After the regular season, the Tyrone team was seeded second in the district, second to Central A before winning their first district championship.
"I am extremely proud of what this team has accomplished so far. They are beating teams who have won state championships. The sky is the limit for this team," said Coach Todd Cammarata.
The team's next trial is against Trinity High School on at 10 am on Saturday, March 10th in the Blair County Courthouse.  The event is free and open to the public.