Mountain Lions pin Eagles 46-19
Forfeits and an injury leads to loss against Altoona
The Tyrone grapplers fell to Altoona 46-19 on Thursday due in part to four forfeits and an injury default.
Leading for Tyrone were pins from Lance Loose and Stevie Colyer and wins by Derrick Harris and Devon Brown.
Junior Devon Brown (2-0 on the season) scored an impressive 12-0 win over Altoona's Corey McClellan with two take downs, a reversal, and three near falls.
"After winning at Huntingdon and Altoona, I feel pretty good going into our first home match on Tuesday against Bellefonte," said Brown.
In the second bout of the night at 152,  senior Lance Loose got the pin at only :32 on Altoona's Trevor O'Connor.
"I thought it was going to be harder than it actually was because my opponent kept muscling me when we tied up, but I made a good shot and got the pin," said Loose, "we could have taken [Altoona] if we had a full team."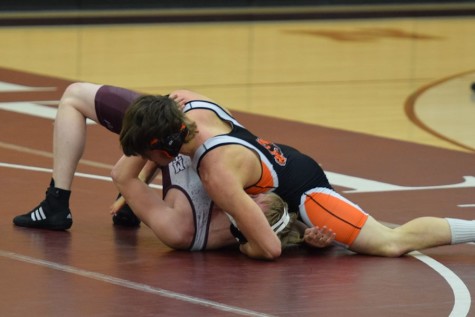 Junior Stevie Colyer at 220 pinned Trent Boutiller at 1:20 with a take down and a near fall of five seconds.
Sophomore Derrick Harris won 6-2 against Hayden Boutiller with a take down, reversal and a near fall.
"Altoona is always a powerhouse and we knew we had our work cut out for us," said Harris, "all of us did pretty good against very tough opponents."
At 145 junior Sage Dixon took a fall at 2:32 and at 182 sophomore Aaron Bakhsheshe took a fall at 1:00.
Junior Gage Light at 285 took an injury default vs David Hess.
Sophomore Jamal Hicks lost to Altoona's Hunter Hileman 14-4.
Box Scores:
145-Kephart, A, pinned Dixon, 2:32
152-Loose, T, pinned O'Connor, :32
160-Stoudnour, A, won by forfeit
170-DeStefano, A, won by forfeit
182-McClellan, A, pinned Bakhsheshe, 1:00
195-Simington, A, won by forfeit
220-Colyer, T, pinned Boutiller, 1:20
285-Hess, A, won by injury default over Light, T
106-No bout
113-Dukes, A, won by forfeit
120-Brown, T, maj. dec. C. McClellan, 12-0
126-Hileman, A, maj. dec. Hicks, 14-4
132-No bout
138-Harris, T, dec. Boutiller, 6-2.
Records: Tyrone (0-2); Altoona (1-0).
Leave a Comment
About the Contributor
Carly Crofcheck, Social Media Director
My name's Carly Crofcheck. I've been in the Tyrone Eagle Eye for four years and I'm a Senior at TAHS. Last year I was the Editor in Chief, this year...