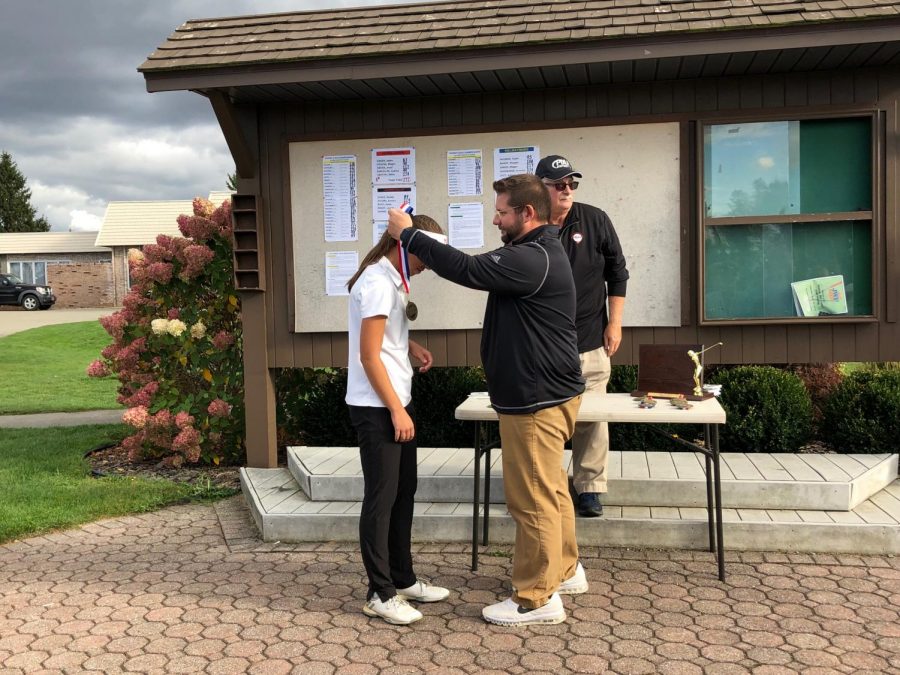 Tyrone freshman Cassidy Miksich defeated Central Cambria senior Jaylee Sikora in a sudden death playoff at Windber Country Club on Friday to capture her first girls AA District 6 Golf Championship title.
"When I went in I knew I had the ability to shoot an 85 and post a good score. I went above my expectations and shot an 83," said Miksich.
Miksich finished her round shooting an 83 in regulation. Jaylee Sikora from Central Cambria also shot an 83 sending the two into a sudden-death playoff.
Miksich seemed unfazed by the pressure and made a clutch putt for par on the first playoff hole to beat her opponent.
"It was overwhelming when I first made the putt to win. I couldn't believe that all my hard work paid off," said Miksich.
This was a major accomplishment for Miksich because she is a freshman, and it is her first year on the golf team.
"I was super proud of Cassidy for what she accomplished at districts.  Not only did she shoot her best round of the season thus far (83) but after learning that she tied for first, she then had the mental fortitude to achieve victory in a one-hole playoff, against a senior no less.  Most high school golfers would have buckled under that amount of pressure," said head coach Michael Funicelli.
Miksich moves onto the regional competition next Tuesday on October 15 at Tom's Run Golf Course. Twenty-two competitors advance to regionals, and only eleven advances to states.
"Cassidy has a good chance to advance. She just needs to play her game and be mentally prepared to compete against some really talented female golfers. We will work hard this week on fundamentals and course management which will be two major keys to success," said Funicelli.
Miksich's district championship was only the second girls title in school history and the first championship for any Tyrone athlete in any sport for the 2019-2020 school year.