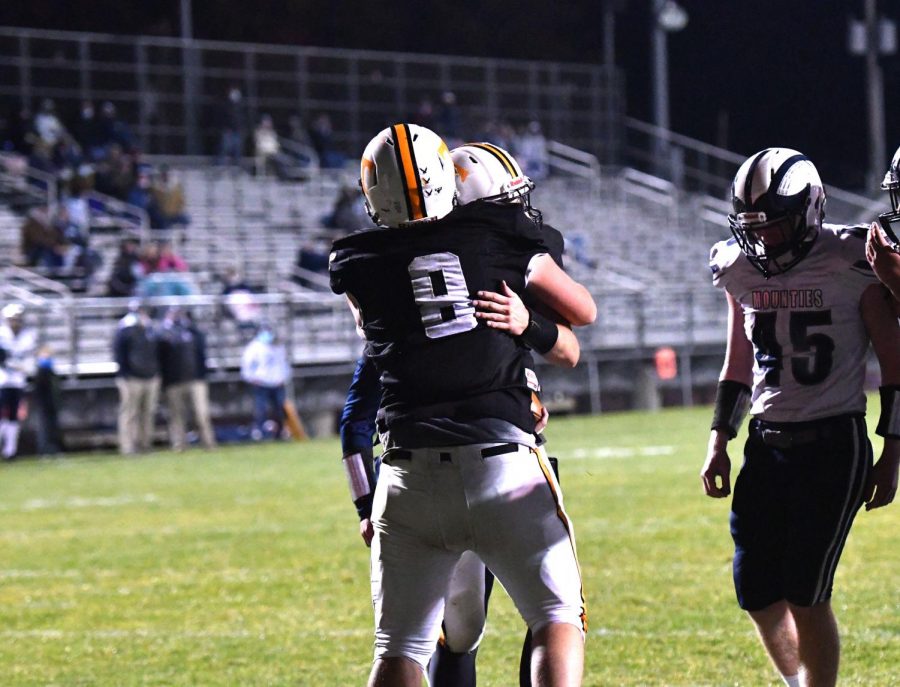 Tyrone was executing in all three phases of the game last week in a huge comeback win against Penns Valley.
The Golden Eagles' defense had another solid outing, shutting down the run game and allowing only 17 yards on 16 carries. Tyrone's offense was clicking, with 28 points, 116 yards rushing, and 261 yards passing. Special teams also played a big role in the 4th quarter, forcing a fumble and setting up the game-ending touchdown.
This week, the Golden Eagles will try to keep the momentum going as they travel to Philipsburg to take on another close-matched Mountain League opponent. Led by Head Coach Jeff Vroman, P-O is 2-5 overall and 1-4 in the Mountain League.
The Mounties are a run-dominated offense with 248 carries, 898 yards, and 5 touchdowns this season.
Leading the backfield is Luke Hughes (#4) with 95 att and 245 yards with 3 touchdowns. Other notable ball carriers are Matt Martin (#21) and Andrew Faust (#42).
They run a wing-T offense with a lot of counters and traps from the tight formation.
The passing game features Ben Gustkey (#8) at quarterback who has thrown 26/72 and 420 yards with 6 touchdowns and 9 interceptions. Leading receivers on the team are Nick Johnson (#6) with 8 receptions, 212 yards, and 3 touchdowns.
Backing him is Matt Martin (#21) with 14 receptions, 172 yards, and 3 touchdowns.
The defense of the Mounties, led by former Tyrone head coach and current defensive coordinator for P-O Jason Wilson, whose defense has given up an average of 29 points a game and 3 interceptions on the year.
The defense is led by senior Langston Hughes (#4) with 34 solo tackles this year and sophomore Nick Johnson (#6) with 23 solo tackles. On the year, they have 3 interceptions and 6 fumble recoveries.
The defensive line features seniors Josiah Kephart (#55) who is 6'3, 230lbs, and Dominic Shaw (#44) who is their leading sack leader with 4.0 on the year.
Philipsburg runs a 4-3 defense with a mix up 50 front when they want to bring pressure on the backfield.
Tyrone is changing things up this week, moving senior Keegan Gwinn back to tight end and giving freshman Ashton Walk his first start of the year at quarterback.
Gwinn started last week's game and played decently, until the second quarter when he threw a devastating 95-yard pick-six to Penns Valley. Walk then took over in the 2nd quarter and completed 11 of 22 passes for 180 yards and 2 touchdowns.
Coach Franco believes this will be a better fit due to Walk's ability to scramble and escape the pocket.
Last year, Tyrone beat Philipsburg-Osceola in a tough battle in which the Golden Eagles came out victorious at home with a score of 35-27.