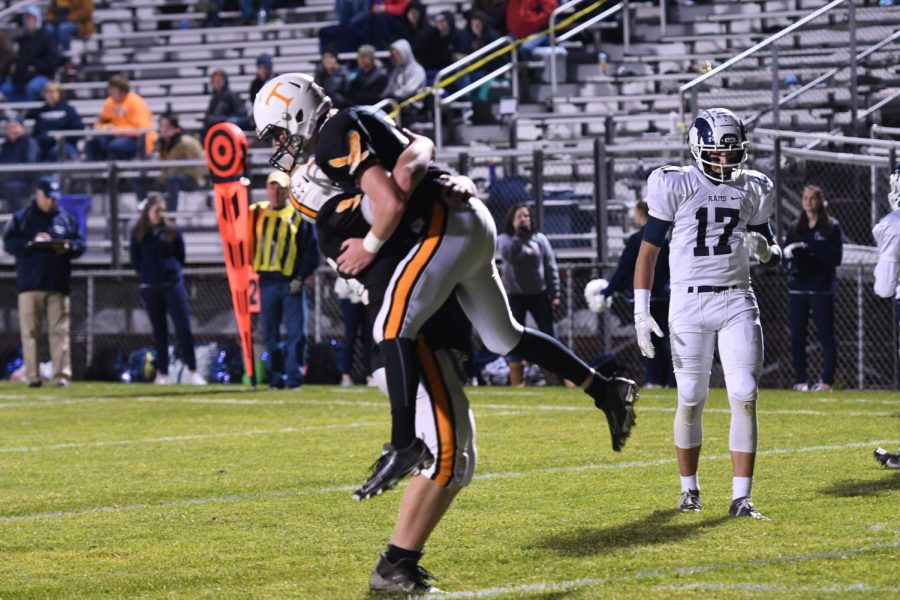 With crucial plays by the Tyrone defense, the Golden Eagles narrowly escaped the grasp of Bald Eagle and won 15-12 last Friday. Tyrone will look to remain perfect (3-0) against a tough Penns Valley team (1-1) this Friday, October 9th in Spring Mills.
Penns Valley was forced to take a two week hiatus after playing Clearfield in week one after a Bison player tested positive for the virus a few days after the game.
The Rams lost to Clearfield in the first game with a score of 27-0 and defeated Bellefonte this past week 28-14.
Due to the new change in the schedule and playoff dates, the Golden Eagles will play only two more regular season games before the playoffs. Friday's game against the Rams will be a big deciding factor in the seeding for the playoffs. Tyrone sits at #2 on the chart as of right now, but if the Golden Eagles can beat both the Rams and the Mounties, they would clinch the #1 seed.
Once again, Tyrone will be playing a team that decimated the Golden Eagles in 2019 (62-14). Instead of having a prolific passing game like most of the teams that Tyrone has faced, the Rams rely on their lineman to churn out a running game that will win the game.
The Rams lineman are bigger than Tyrone, but so were most of the other teams Tyrone has played. Once more, Tyrone lineman will have to win using their conditioning and quickness to win.
However, the Golden Eagles skilled players could match up and beat almost anyone in the state. If Tyrone can avoid pressure on the Golden Eagles QB and can get open looks for the receivers and running backs, they have a good chance of winning on Friday.
The Rams defense gave up 193 yards rushing and 120 yards passing with both a touchdown on the ground and through the air against the Bellefonte offense.
The Penns Valley offense threw for 148 yards and three touchdowns, all to the same star receiver-Stephen Ripka. On the ground, the Rams split carries among tough running backs for 211 yards and a touchdown as well.
The key to a Tyrone win will be the defensive line. If the defensive tackles and ends can hit their aiming points and not get driven back, this game could be all Tyrone. Another key factor will be how much time the Golden Eagles QB receives in the backfield from the offensive line and whether or not he makes big plays when back there.
Tyrone has yet another stop on their "revenge tour" and plans to remain undefeated against teams that beat the Golden Eagles just a year before.
The Eagle Eye will not be able to stream the game due to it being played in Penns Valley, but WTRN will broadcast the game via radio. Kickoff is at 7PM.