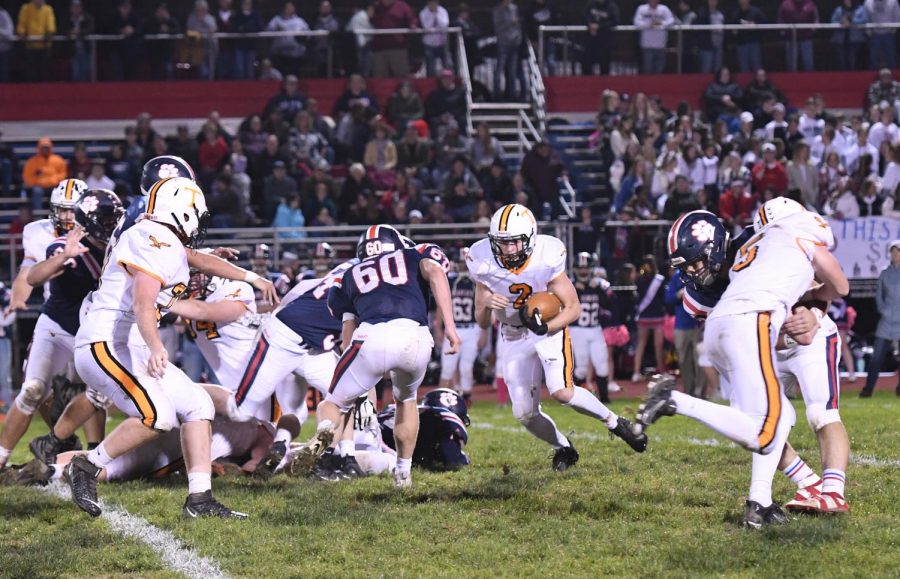 Lucia Isenberg
After an unexpected Friday night off from play due to a Clearfield player testing positive for Covid-19, the 1-0 Tyrone Golden Eagles will look to avenge their 30-13 2019 loss against the 0-2 Huntingdon Bearcats.
The Bearcats have lost to both Philipsburg Osceola (20-35) and Bald Eagle (8-46), but that doesn't mean they aren't a worthy opponent. In fact, in both games the Bearcats led at least one point during the game.
Huntingdon has size on both their offensive and defensive lines, but their weakness shows in the lack of conditioning and quickness. The opposite is true for the Tyrone linemen, who instead of relying on strength to win, depend more on their quick feet and conditioning to outlast their opponents.
The Bearcats quarterback, senior Darin Harman, threw 18 passes and completed 8 of them for 58 yards against the Bald Eagle defense.
On the ground, Huntingdon had 35 rushes for 45 yards, averaging 1.3 yards per carry with most of the carries coming from senior Myles Baney.
The Bearcats only score came off a 94-yard interception return for a touchdown by Harman. This statistic alone shows the Huntingdon defense can be a force to be reckoned with no matter how far the opponent drives downfield.
Regardless of their record, Huntingdon has a serious advantage over Tyrone by playing in one more game. Tyrone has no way to see how they have grown since the 11th, yet the Bearcats will be able to adjust their game plan and see their weaknesses more visibly with one more week of experience.
But the Golden Eagles are confident about their prospects this Friday night at home.
"If we play hard and fast all game, we will win. Simple as that," offensive and defensive lineman Brody Rizzo said.
The game will also be a return to semi-normalcy as the size of the crowd has been increased from 250 to 1,100, which is 25% of capacity at Gray Field.
Expect a gritty game that yet again will be won on the fronts of the offensive and defensive linemen. With the Bearcat linemen being bigger and stronger, but the Golden Eagle lineman being better conditioned and quicker, it could and should be a great game.
The Eagle Eye will live stream the game tonight, beginning with a performance by the Tyrone Area Marching Band 6:30 pm. Kickoff is at 7 pm.