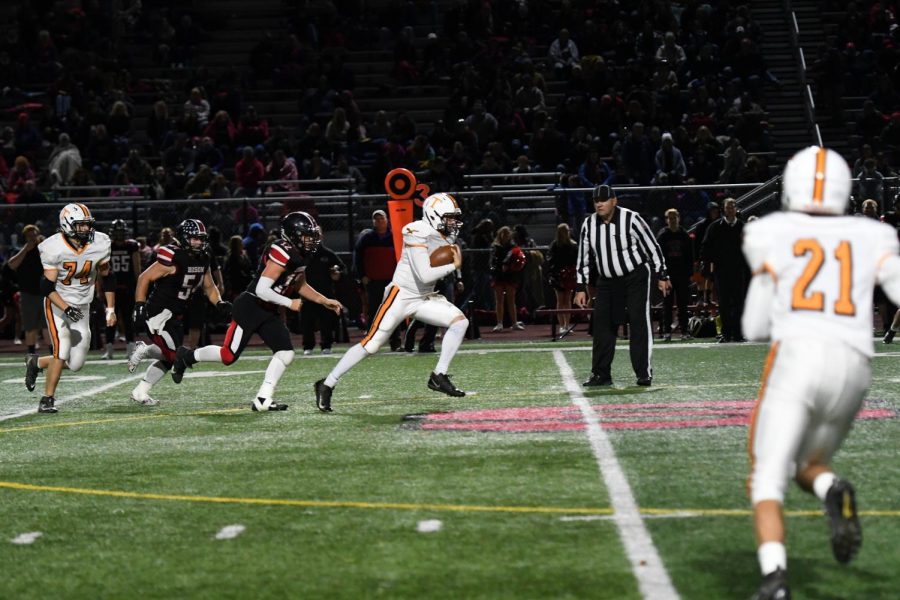 Lucia
The Tyrone Golden Eagles travel to Clearfield Friday to face the Bison. Both teams enter the contest 1-0. Tyrone upset the Bellefonte Red Raiders 21-13, and Clearfield bested fellow Mountain League opponent Penns Valley 27-0 in each team's season opener last week.
Last year the Bison defeated the Golden Eagles 28-14 at Gray Field in Tyrone.
The Golden Eagles should match up better with the Bison this year, making for a competitive contest that could go either way.
Both team's offensive and defensive lines are average sized but quick and match up well with each other.
Tyrone's skill players, who usually have the upper hand against most opponents, could meet their match against Clearfield junior quarterback Oliver Billote and senior wide receiver Jake Lezzer.
Both teams were much more successful through the air than on the ground in their season openers.
In their first game, Billote was Clearfield's leading ball carrier, with 12 rushes for 56 yards. Clearfield's starting tailback Mark McGonigal was next with 11 carries for 53 yards, averaging an impressive 4.8 yards per carry.
For the Golden Eagles, senior Tommy Hicks was the team leader, carrying the ball 11 times for 45 yards. Quarterback Brandon Lucas also had 14 carries for 25 yards.
On the passing end, Billote completed 17 of his 30 attempts for 222 yards and two touchdowns for the Bison while Tyrone senior Brandon Lucas completed 9 of his 18 attempts for 186 yards.
The most targeted receivers for both teams put up great numbers, with senior Jake Lezzer catching 8 for 128 yards. Junior Karson Kline hauled in two touchdown passes for the Bison.
For Tyrone, senior wideout Brandon Gripp caught five of Lucas' passes for 146 yards and 2 touchdowns. Gripp was also a standout on the defensive side of the ball with two interceptions.
Defensively both teams were very effective last week, with Clearfield shutting out Penns Valley and Tyrone limiting Bellefonte's offense to two scores.
Tyrone gained a lot of confidence in their upset win last week and hope to carry that momentum into Clearfield Friday night.
"They have good talent but we have great talent," said Tyrone senior Tommy Hicks. " If we do what we need to do and show up prepared the game can be ours, guaranteed."
Overall, these teams are very similar and the game could come down to who wants it more and who can outperform, out condition, and out tough their opponent.
Because the game is away, the Eagle Eye will not live stream this week, but the game will be broadcast locally on WTRN. Kickoff is 7 PM.