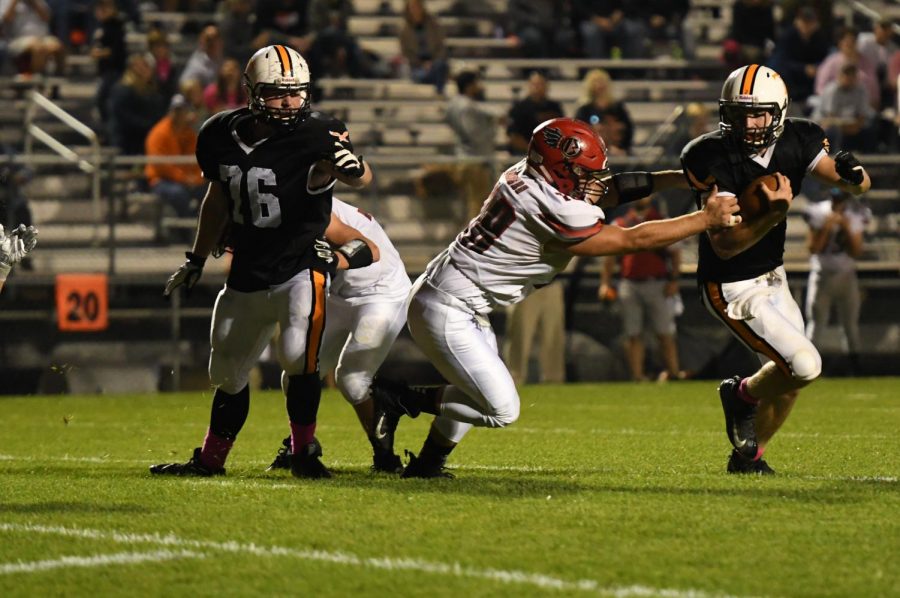 Lucia Isenberg
After one of the most tumultuous off-seasons in high school football history, for a few precious hours all will be "normal" again, at least inside the lines, when the Tyrone Golden Eagles host the Bellefonte Red Raiders tonight at Gray Field.
Outside the lines, however, things will be anything but normal. With COVID-19 restrictions limiting the crowd on hand to 250, including the players, coaches, and game officials, Gray Field will not have its normal opening game atmosphere. However, players and coaches from both squads are thankful for the opportunity to compete and continue the long tradition of high school football in central Pennsylvania.
This will likely be one of the toughest tests the Golden Eagles will face this season.  The Red Raiders dominated Tyrone last year in Bellefonte 55-10, and return a number of starters from that squad.
"This will be the best team Tyrone faces all season," said Tyrone Head Coach John Franco.
Bellefonte finished second in the Mountian League in 2019, with their only conference loss coming in a close 14-6 loss to Mountain League champion Penns Valley.
Bellefonte relies heavily on its offensive and defensive lines. Both are bigger and stronger than most, if not all, of the teams Tyrone will face in the regular season, which means that attacking the ball quickly and tackling as a team will be essential for the Tyrone defense.
The key for the Golden Eagles offense, however, is the offensive line. Tyrone's skill players can match up with anyone in the conference, including this Bellefonte team. If the Tyrone offensive line can come through by hitting their aiming points and going hard every play the Golden Eagles will be able to compete with the Red Raiders.
"I am expecting us to come out and play as hard as possible from the first play to the last play and come out on top at the end of the game," Tyrone starting senior quarterback Brandon Lucas said.
If Tyrone can keep the game within reach heading into the fourth quarter, the Golden Eagles are confident that their conditioning will help them to outlast Bellefonte.
While defeating the Red Raiders will be a challenge, win or lose this game should be a good yardstick to measure how they can compete against a team ranked at the top of the conference this preseason.
Expect a high-intensity game on Friday that will be won between the offensive and defensive lines.
Because of COVID restrictions, only parents of seniors were given tickets to the game, so other fans will not be able to attend tonight's home opener.
The game will be live-streamed on the Tyrone Eagle Eye YouTube and Facebook pages. The live stream will begin at approximately 6:30pm with a pregame performance from the Tyrone Marching Band. Kickoff is scheduled for 7pm.