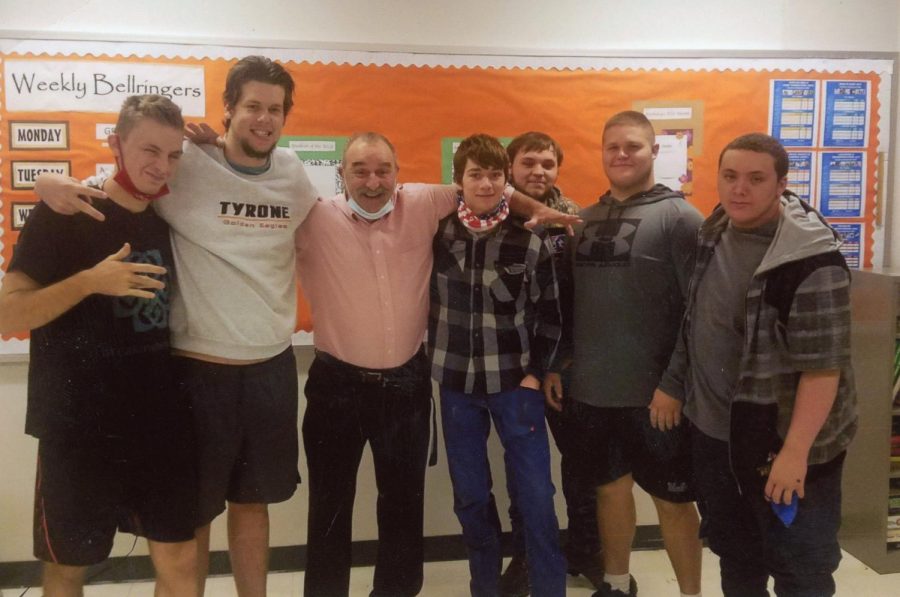 Photo Courtesy of Jessica Ellenberger
One of Tyrone's High School's most beloved paraprofessionals and security officers has retired with many years of service to the district.
Barry Herr was paraprofessional in Mrs. Jessica Ellenberger's special education classroom by day and often served as a security officer for sports and other events in the evening, making him a very familiar face to both students and members of the community.
"I came to the Tyrone School district first as a custodian and security officer, and then applied for the opening of a paraprofessional," says Herr.
Herr graduated from Phillipsburg High School and earned a bachelor's degree in Administration of Justice from Penn State.
Prior to working at Tyrone, Herr was a blaster and drill rig operator at strip mines. Soon after, he worked in security and loss prevention for major retail chains.
Herr is taking many adoring memories, especially of the students. Some of his best memories include chaperoning field trips to Washington DC with the eighth-grade students.
"I will definitely miss the kids the most," said Herr.
Teachers and staff members at Tyrone were thankful to work with Herr and described it as a wonderful experience.
"You rarely saw Barry in a bad mood and he was always able to see the positive things in each day," said Tyrone special education teacher Jessica Ellenberger.
Herr will be remembered for his positive attitude and friendly personality.
"He was always positive no matter what the situation. I miss seeing his smile and jovial attitude. I have too many favorite memories to list, but I loved working security with him," said Athletic Office Administrative Assistant Faith Everhart.
With COVID-19 creating difficult circumstances, Herr decided that it was time for a new start.
"My original plan was to wait until my daughter graduated at the end of the year but the pandemic was the final reason for me," said Herr.
Herr's daughter Sarah is a member of the TAHS Class of 2021.
After retirement, Herr is excited to begin travel. He is also looking forward to visiting his kids and their families for the summer.
"Now that Mr. Herr has retired, things seem quieter. Not that Mr. Herr was loud, but he had a presence you couldn't miss," said Ellenberger.