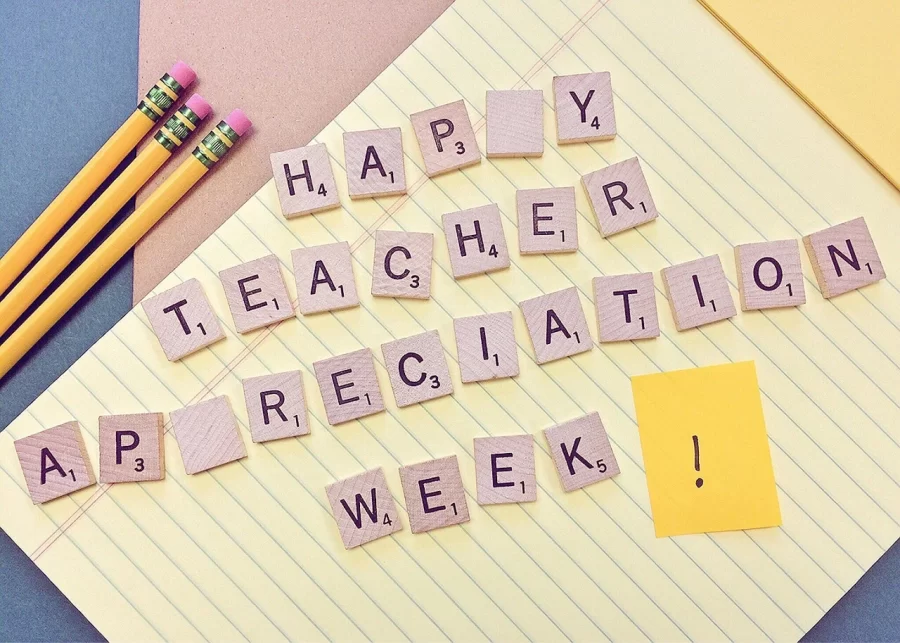 Used with creative commons license https://pixabay.com/photos/teacher-appreciation-week-teacher-1373218/
This week is Teacher Appreciation Week, a time for teachers to be recognized for their hard work and dedication.
Whether helping them with their homework, showing compassion, supporting goals, believing in them, or just being a great listener when going through a difficult time, students often remember the little things that a teacher once did for them.
To gather information for this story, the Eagle Eye asked teachers in the Tyrone Area School District to share some thoughts about their profession.
While most teachers report that they do enjoy their job, almost all of them feel overwhelmed and underappreciated at times. Three-quarters of the teachers surveyed said that they didn't think that their profession was appreciated by students or the public.
"Teachers go into this profession because they care about kids," said one Tyrone teacher, "Not the money, not the myth of having summers off, not their love of paperwork, but their willingness to make a difference in the world and in the lives of children. We will continue to do it because we love the kids and care about their future."
Everyone knows that teachers have the summer off, but there is a misperception that teachers don't do anything over the summer.
The reality is that many teachers spend their summer off working a second job, and/or they are busy planning for the upcoming school year.
Surprisingly, in the Eagle Eye survey, only one teacher mentioned having the summers off as one of their favorite parts of the job.
When asked what they love most about their job, unsurprisingly most mentioned the students.
"I love working with kids and helping them become good people," said one Tyrone teacher.
"Building relationships with students and helping them with their future goals," said another.
"My favorite thing is building relationships with the students and the ah-ha moments where you can see the kids finally get something they've been working on. I love seeing students be proud of themselves for working hard," said another.
The most common complaint that the teachers had about their profession is the added responsibilities that have been given to teachers over the years.
"Teaching is the easy part; it's all of the other roles we are expected to play because of all the needs of our students that make this job difficult and overwhelming many days," said one Tyrone High School teacher, "Teaching is way more than standing in the front of the room and teaching lessons – something the public doesn't understand or realize. We are overworked, under-staffed, and exhausted."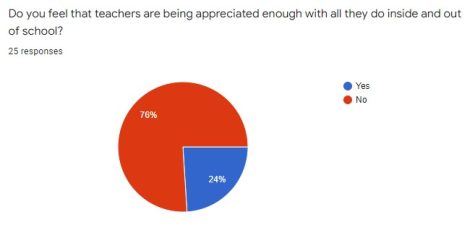 Growing up, I had a teacher who used to make hot chocolate for my class on cold, winter days. I remember being so excited to go to school just to see my teacher's smiling face as she handed a tiny cup of hot chocolate to each student.
Thinking back now, I realize that my teacher took money out of her own pocket to pay for such a simple thing. Her simple act of kindness brightened the day of several elementary students.
"Teachers are asked to do a lot and spend their own personal time and money to accomplish the task," said one Tyrone teacher.
What students and parents may not realize is how dedicated teachers are to helping their students and watching them grow. A dedicated teacher encourages individuality and adapts to different learning styles to ensure each student reaches his or her full potential.
"Unfortunately, this is a thankless job. It is something that we can pour our hearts and souls into, trying our best to make a difference in students' lives, but that is not often recognized. Yet, teachers continue to teach, not because of the excellent pay, but because they care about the lives of students and the success of their future," said another Tyrone teacher.
The challenges of the pandemic have made a teacher shortage that has been building for the past decade into a serious problem.
Tanya Garcia, a deputy secretary at the Department of Education, addressed the decline of teachers in an article published in The Morning Call. She stated how there was a 66% drop in newly issued in-state teaching certificates over an 11-year stretch.
Pennsylvania is following the decline with the number of undergraduate education majors dropping by nearly the same amount over the last decade.
This shortage is affecting teachers who naturally use their free periods to plan for other class periods and grade papers. Instead, they now have to cover other classes when there are not enough substitutes to cover all the teachers who may be out for various reasons.
As the daughter of a teacher, I see the reality of life as a teacher and how much effort they put into the education of their students. I watch as teachers give up their free time to stay after school to finish their lesson plans and heave stacks of papers home to grade each night.
For Teacher Appreciation Week, I ask you to look back on your time in school or as a current student and think about the teachers who impacted your life. Think about where you would be now or even who you may be if you never met them.
I ask for you to reach out to your former and present teachers who influenced your life. They chose the teaching field, not for the pay, but to see children make a difference. Thank your teachers for all that they have done because it was never an easy job.
"In my opinion, teachers need to be shown appreciation more often and throughout the entire year. Very rarely does someone go out of their way to tell a teacher that they have done something great; more often than not, is to criticize or add another task to their already overflowing plates. I would love to see teachers feel more valued by students, parents, and administration. It would make a huge impact on the overall morale of teachers today," said a Tyrone teacher.
To see the complete results of the Eagle Eye teacher survey, click the links below:
Inspiration To Become A Teacher
Favorite Thing About Being A Teacher