Liberation and Return
April 1, 2015
Walk was liberated from the Stalag on April 2nd, 1945. In a strange coincidence, one of the American soldiers that Walk met that day happened to be a fellow Tyrone citizen, Sam Forte. Forte owned a shoe repair shop in Tyrone on 10th street, next to the Gardner's Candy Store. When Forte walked into the camp Walk did a double take and thought he was dead or dreaming when he saw someone from home staring back at him.
Like many of the other prisoner's, Walk was far too weak to stand, let alone greet his liberators. Doctors examined him and determined that he was days away from dying. After his brutal stay at Stalag IX B, Walk had to be carried out of the camp and was sent to a hospital in France to begin his recovery.
On April 5, Walk was able to write his first letter home as a free man.  He began the letter "Dear Mom and all, at last I'm in a position to write you a letter and its not as a German prisoner of war.  We were liberated by the Americans on the 2nd of April.  Boy what a day that was."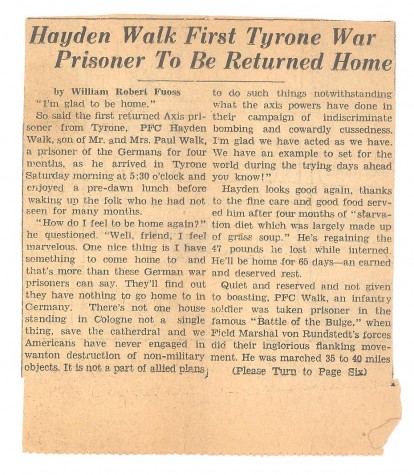 Walk's next letter home was written from a hospital in France on April 16, 1945. In it he said "I'm felling pretty good now but I was in pretty sorry condition for awhile. Life as a [prisoner] in German was pretty rough but I won't go into detail about that now."
In an interview with the Tyrone Herald soon after his return, Walk spoke frankly of both the joy of being home and the horrors of war that he witnessed in Germany.
"How do I feel to be home again? Well friend, I feel marvelous," said Walk.
"The [atrocious] tales you have read and the pictures you have seen are true. Have no doubt the truth of them. I only might wish I was permitted to tell you of them, but for the present I shall merely add that the worst has not been told. The Germans are just as they have been portrayed to you over the air and in the press. The atrocities are correct in every respect," Walk told the Herald in 1945.