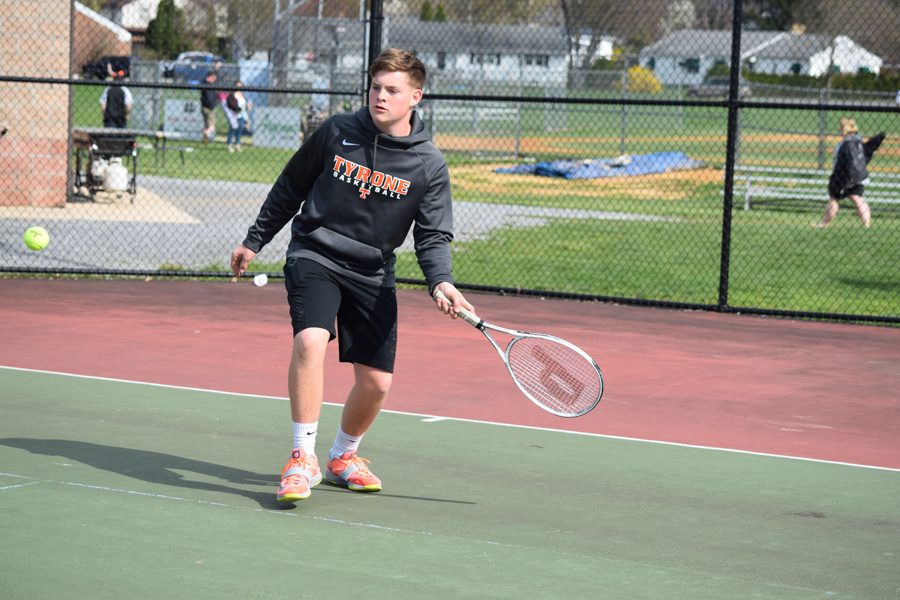 Tyrone opened the season last night at Huntingdon with a 6-1 Mountain League victory over the Bearcats.
Notable in the match was a faceoff between the Golden Eagles #1 player, Nick Lewis, and Huntingdon's #1, Taran Pelkey. Their match took near three hours, which is very rare, and ended with Lewis winning with a set with a score of 6-1, 3-6, and 6-4.
"I was excited to leave Huntingdon with a win and I'm pumped to be back playing tennis with all my guys," said Lewis.
Tyrone will host Hollidaysburg on Monday, March 22 at their home courts. Spectators are allowed with masks and social distancing being appreciated.
Tyrone 6, Huntingdon 1
SINGLES: 1, Nick Lewis, T, def. Taran Pelkey, 6-1, 3-6, 6-4; 2, Dean Grassi, T, def. Ethan Varner, 6-1, 6-2; 3, Andrew Savino, T, def. Darin Harmon, 6-0, 6-2; 4, Kelton Raabe, T, def. Carson Cramer, 6-0, 6-0; 5, Will Grot, T, def. Caleb Dickson, 2-6, 6-2, 6-4.
DOUBLES: 1, Ethan Varner-Darin Harmon, H, def. Remington Fleck-Andrew Weaver, 8-3; 2, Colin Yaudes-Cohen Wallace, T, def. Carson Cramer-Trevor Dickson, 8-3.
Records:  Tyrone (1-0), Huntingdon (0-1)