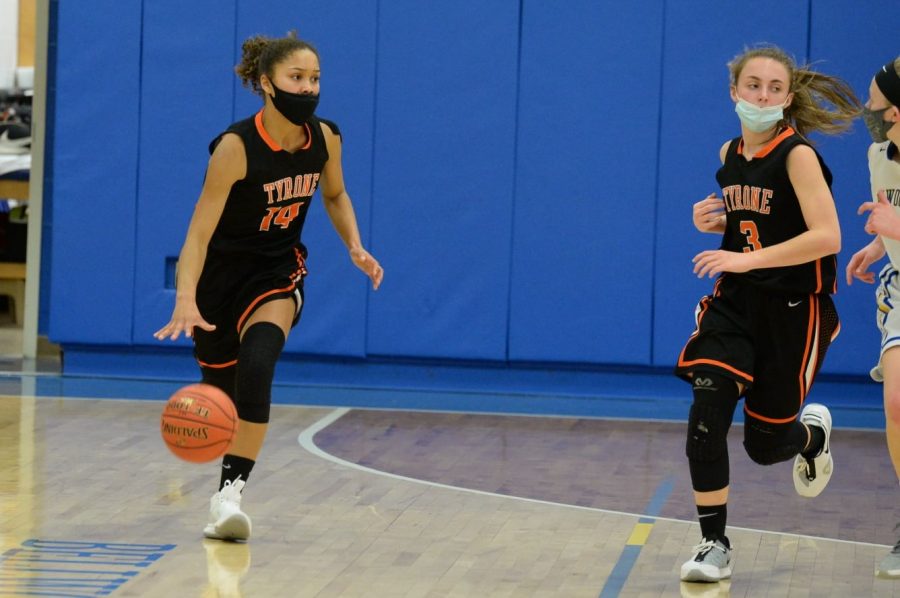 Terry McCaulley
Despite a rocky start and an early-season injury to one of their starters, the Tyrone girls varsity basketball team is having a great season and are fine-tuning their game in anticipation of the playoffs.
After the abrupt end to last year's season, which left the Lady Eagles as one of the elite eight teams remaining in the state, it is clear that the Lady Eagles are hungry for a repeat trip to the state tournament. Looking at how the season has gone so far, seeing the team go deep into the playoffs would be no surprise.
"We are really improving defensively and I believe we are rebounding the ball very well. Offensively we are not where I want us to be at this time so we are really focusing on shooting at practices," said Tyrone Head Coach Luke Rhoades.
With only one starter lost from last year's squad, the roster is very strong. Juniors Stephanie Ramsey, Jaida Parker, and Emma Getz return as starters from last year. However, the Lady Eagles did experience a setback in the first game of the season when senior starter Shannon Shaw tore her ACL, but the team has had time to adjust their game and allow others to gain experience.
Since the loss of Shaw, senior Chesney Saltzgiver and sophomore Kayelin Gibbons have been working hard to step up for the team.
"I think our season is going pretty well. We are working as well as a team and continuing to build on what we started last year," said junior Jaida Parker.
The season kicked off with a non-conference game against VMA on January 9th. With COVID restrictions, it was very difficult to find schools that were open to playing early in the season, nonetheless, Head Coach Luke Rhoades found Villa Maria in Erie. Although the girls put up a good fight, they fell to Villa Maria 49-26.
The girls then had another close loss against Punxsutawney, which was also a non-conference game 44-41. However, the girls have won nine in a row since that game, many against conference opponents.
The Lady Eagles have beat Central (64-44), Bellefonte (50-17), Indiana, which was another non-conference game (51-41), Penns Valley (53-35), Juniata Valley (54-49), Clearfield (64-19), Northern Cambria (55-41), Bald Eagle (57-26), and finally Bellwood (59-41).
The win against Bellwood was especially satisfying since it was Tyrone's first against their northern Blair County rivals since the 2009 season. Sophomore Kayelin Gibbons stepped up with 17 rebounds
"Each game, we have taken steps forward as a team and are improving on the little things," said junior Stephanie Ramsey.
The Lady Eagles now have an overall record of 9-2 and a league record of 5-0 which places them first in the Mountain League.
"We need to do a better job of seeing the floor on offense and do a better job finishing around the hoop," said Rhoades.
The girls' next game is tonight, Monday, February 8th at Bellefonte and will be live-streamed on Bellefonte's YouTube channel.