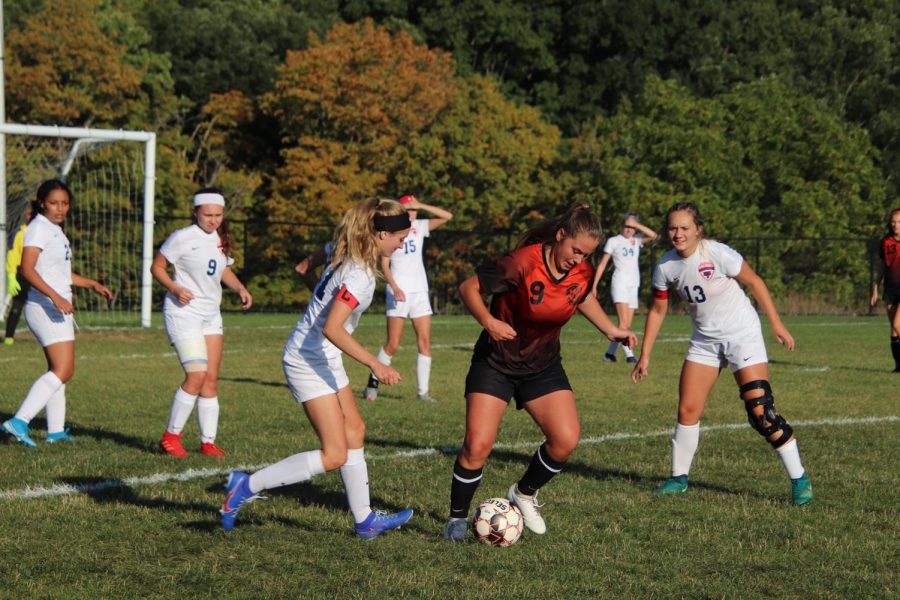 Courtesy of Aaron Vance
Freshman Lainey Quick scored the winning goal with three minutes remaining in overtime to beat the Huntingdon Bearcats 3-2 at home on Monday, September 21st.
"I was excited because it was my first varsity goal and it also felt good knowing that we had won the game," said Quick.
In the overtime period, both teams came out aggressive and had the mind-set of achieving the game-winning goal. Many shots were taken but none were able to make it past outstanding goalkeeping from both keepers until Bellwood freshman forward Lainey Quick's shot on goal reached the back of the net.
Tyrone connected many small passes looking for an open shot to score near the end of overtime. Tyrone senior midfielder Kendall Markley then passed the ball to an open spot and Quick ran on to it and hit a one-timer into the back of the net, sealing the win for the Lady Eagles.
The first half started out fast with both teams taking many shots on goal. The first goal did not come until the 26-minute mark when Huntingdon's Greenfield broke past the Tyrone defensive line and received the ball on a nice cross from Sellers.
Tyrone retaliated with a goal 10 minutes later. Tyrone sophomore Chloe LaRosa received a pass from Markley and was able to turn on it and find the back of the net.
The rest of the half had many shots on goal for both teams but the keepers held and the score remained tied at 1-1 at the half.
At the start of the second half, both teams were searching for the back of the net, hoping to break the tie. Huntingdon was the first to score on a free-kick just outside the goal.
The Lady Eagles did not let the free-kick phase them, instead, they continued pressuring the goal until sophomore Eliza Vance hit the back of the net with twenty minutes left of the game.
Vance scored the goal after a cross from LaRosa that landed in front of the goal. Both teams desperately tried to break the tie but regulation ended in a 2-2 tie.
The game-winning goal was exciting to Tyrone because they have lost several games in the past couple of seasons in overtime.
The winning goal was especially exciting to freshman Lainey Quick, as it was her first varsity goal.
Score By Halves:
Huntington- 1 1 0 — 2
Tyrone- 1 1 1 — 3
First Half: H-Greenfield (Sellers), 26:00; T-LaRosa (Markley), 36:23
Second Half: H-Staley (unassisted), 64:1; T-LaRosa (Vance), 74:00
Overtime: T-Quick (Markley), 87:82
Records: Tyrone- (2-1-1)