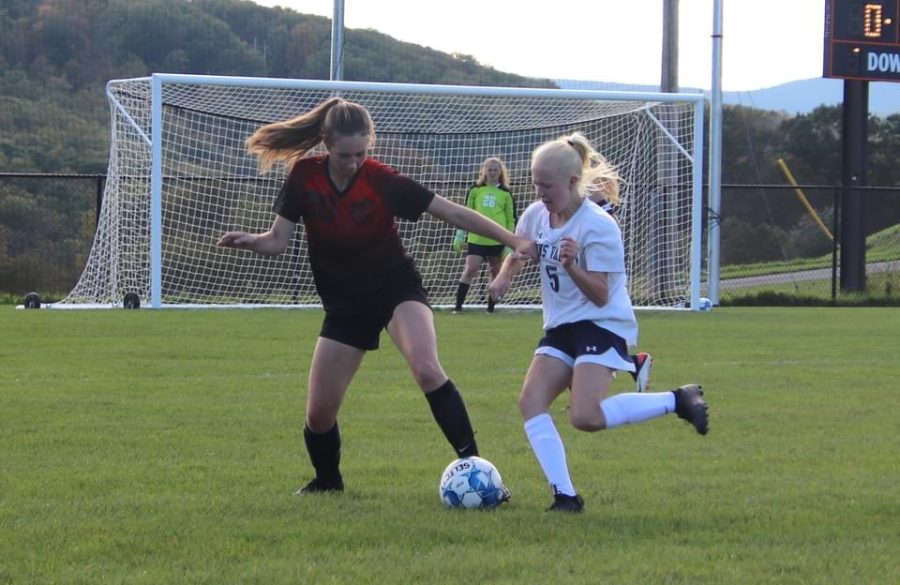 Aaron Vance
Thanks to a "quick" shot from Bellwood sophomore Lainey Quick, the Lady Eagles beat the visiting Penns Valley Lady Rams 1-0 at home last Monday evening.
The game started off with high intensity from both teams. Tyrone's offense was unable to get through Penns Valley's backline, but at the same time, the Lady Eagles defense wasn't letting up. They managed to shut Penns Valley out of all their opportunities to score.
Tyrone was playing without several key players, including starting midfielder Chloe LaRosa and goaltender Rayann Walls, both out with injuries.
"I thought we played well despite missing many girls. We really showed up in the second half when it mattered the most," said Bellwood sophomore Lainey Quick, who scored the game's only goal.
After many hard-fought battles in the midfield and offensive end, Quick managed to score from just outside the eighteen with only eleven minutes left in the game.
Quick received a pass from senior Lindsey Parks, who led her into the center of the field. Quick then took a shot into the bottom right corner. The ball slipped by Penns Valley's keeper and lifted the Lady Eagles to victory.
"My coaches and teammates are always encouraging me to shoot more, so scoring the winning goal made me happy and more confident," said Quick.
Bellwood senior Jaylee Shuke stepped up to play keeper and recorded her first shutout of the season. Shuke made four saves to secure the win over Penns Valley.
Box Score
Penns Valley- 0 0 – 0
Tyrone- 0 1 – 1
First Half:
No Scoring
Second Half:
T: Quick (Parks) 68:30
Records:
Penns Valley (4-4)
Tyrone (7-4)