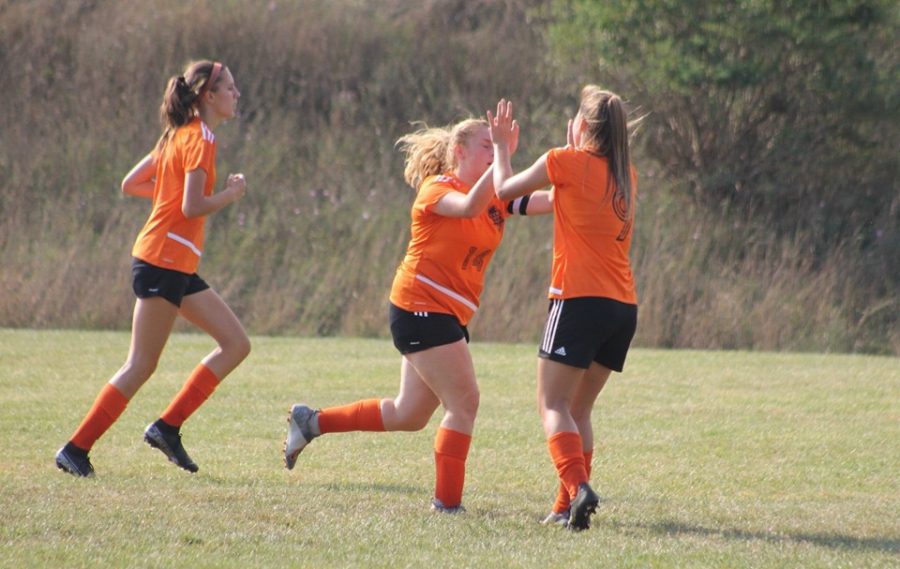 Courtesy of Aaron Vance
Tyrone led 3-0 late in the first half at home against Bellefonte but struggled to keep up the intensity and lost 4-3 in double overtime.  The Lady Eagles got goals from Chloe LaRosa, Kendell Markley and Eliza Vance in the loss.
The game was scoreless for the first 24 minutes until the Lady Eagles collected three goals late in the first half. Chloe LaRosa scored the first goal for Tyrone. LaRosa broke away from Bellefonte's backline and dribbled to score the first goal. Six minutes later, Kendall Markley scored assisted by LaRosa. Eliza Vance scored the next goal unassisted two minutes later.
"I think that we played a very well game and it was a tough loss but overall I think we let up a little bit in the second half. At the next game, I hope we play hard like the first half all game long no matter the score," said LaRosa.
In the second half, the Lady Raiders tied the game to take the game into overtime. Mallorie Smith scored twice and got the 100th goal of her career. The other goal was by Kerri Shutika.
In the first overtime, both teams stayed defensively strong, but in the second overtime Hubbs scored to win the game for the Lady Raiders.
Tyrone has created many opportunities throughout the game, but was unable to finish more than three. The Lady Eagles next game is Tuesday, September 17th at 4 pm at home.
SCORE BY HALVES
Bellefonte 0 3 0 1 — 4
Tyrone 3 0 0 0 — 3
First half: T–LaRosa (unassisted), 24:17; T–Markley (LaRosa), 30:01; T–Vance (unassisted), 32:54
Second half: Smith (unassisted), 47:40; B–Smith (Schrader), 57:42; B–Shutka (Smith), 60:53
Double OT: Hubbs (Smith), 92:53
Records: Tyrone (2-4), Bellefonte (2-4)