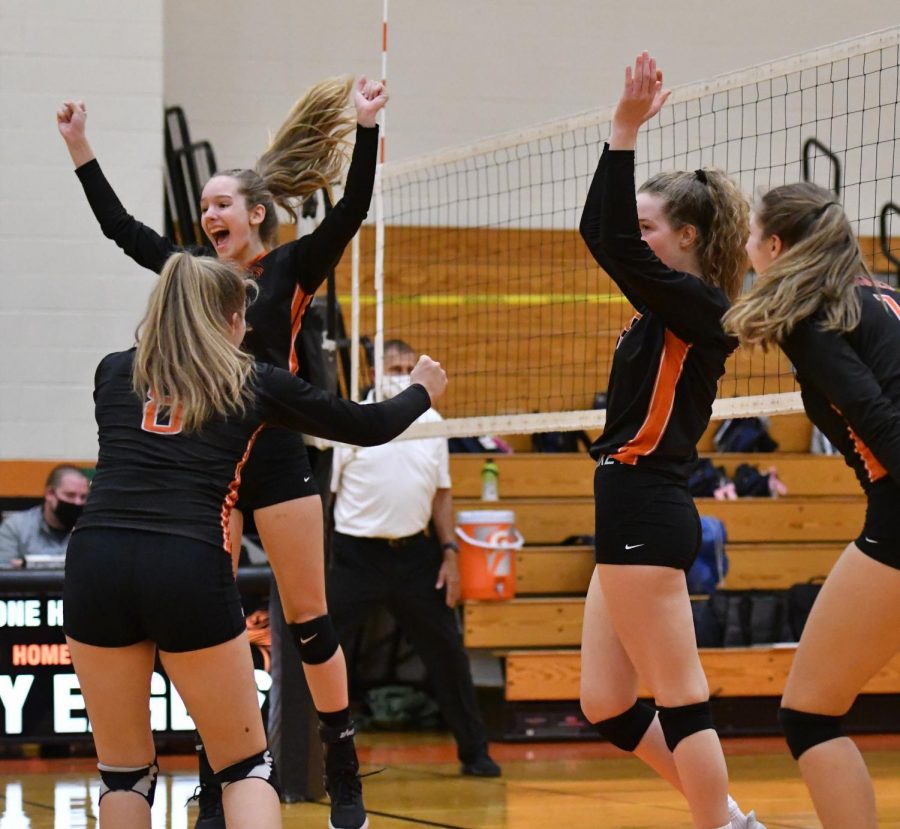 Lucia Isenberg
The Tyrone Lady Eagles defeated Westmont Lady Hilltoppers 3-0 on Monday, November 2nd in the first round of district 2A playoffs.
Tyrone dominated most of the match, but it was in the first set where the Tyrone girls made the most errors in regard to serving and hitting. However, Tyrone's defense was on point. A few balls were hit into the net and missed serves were either very close or they smacked the top of the net and didn't go over.
After a lot of back and forth between errors and some good plays the Lady Eagles pulled through at the end and began to play tactically.
Set two was the best set of the match for the Eagles after they eliminated their hitting errors. The Hilltoppers also made the most mistakes in this set by letting the ball drop, missing serves, and giving Tyrone free balls.
The final set sealed the Eagle's fate and determined that we'd be moving on to the next team in the playoffs.
All of the seniors had some outstanding plays and left it all out on the court. This was the last home game of their Tyrone career.
"The game on Monday was very bittersweet. I'm glad we won so we can get one more chance at beating our all-time rival, Bald Eagle, but it was sad to think that I won't step on the Tyrone volleyball court as a Lady Eagle again," said Senior Courtney Williams.
Tyrone will travel to Bald Eagle on Wednesday for the quarterfinals. The game will be live-streamed on the Bald Eagle Ambassadors YouTube Channel.
Stats:
Mattie Cherry – 33 assists, 1 dig, 3 aces
Reagan Irons – 7 kills, 3 digs, 4 aces
Maecy Tuskovich – 8 digs
Courtney Williams – 10 kills, 6 blocks
Piper Christine – 5 kills
Makenna Bauer – 14 kills, 2 digs
Service Points:
Maddy Rockwell – 8
Holly Long – 9
Maecy Tuskovich – 5
Mattie Cherry – 4
Reagan Irons – 9
Gianna Maloney – 4