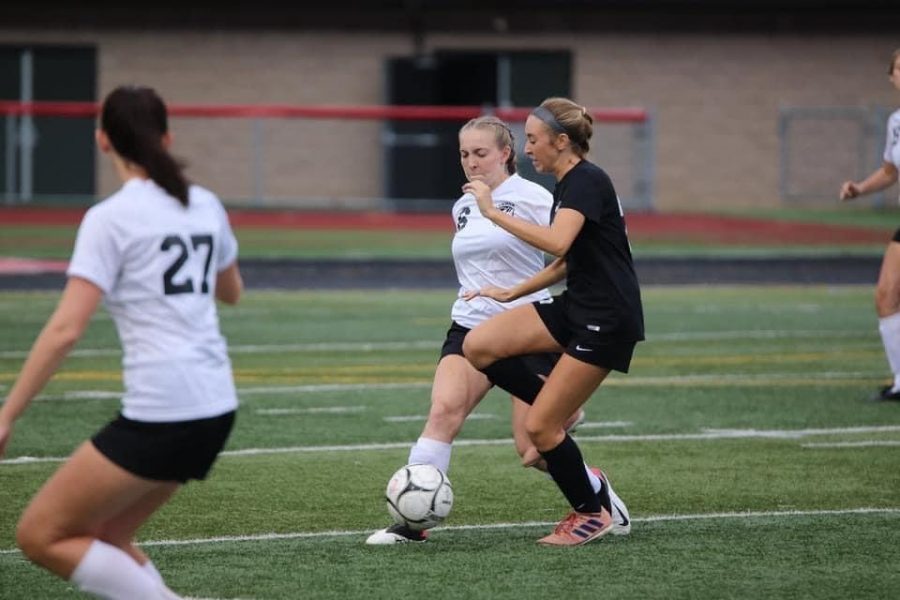 Aaron Vance
The Tyrone Lady Eagles soccer team lost 6-1 last Thursday to the undefeated Clearfield Bison.
Tyrone knew they were in for a challenge after losing to Clearfield in previous years. Clearfield pressured the Lady Eagles high in their defensive end and work their passes around the field.
The game started off with high intensity on both sides. The game remained scoreless until the ninth minute when Clearfield gained a corner kick and the Bison's Allison Shipley was able to cross the ball in front of the net for teammate Riley Ryan to one-touch into the goal.
Clearfield scored their second goal five minutes later when a push inside the keeper's box led to a penalty kick, and Clearfield's Elle Smith took the opportunity to shoot in the bottom right corner of the net.
Clearfield's third goal of the half was scored by Lydia Brown when Smith passed the ball to her from midfield, and Brown was able to break through the middle of Tyrone's defensive line and shoot straight at the goal.
Tyrone was able to make its first goal two minutes after Clearfield when junior Eliza Vance dribbled the ball up the left side of the field and scored in the bottom right corner of the net.
The second half of the game was dominated by Clearfield's skilled midfield and forwards with another goal being scored by Brown after an assist from Smith. Smith then added another two goals on two assists from R. Ryen.
Although the score may not show it, Tyrone worked hard throughout the game and took many shots on the goal that couldn't pass Clearfield's keeper.
Clearfield improved to 6-0 while Tyrone fell to 2-2.
SCORE BY HALVES:
Tyrone 1 0 — 1
Clearfield 3 3 — 6
First Half:
C: Shipley (R. Ryen) 9:23
C: Smith (Penalty kick) 14:16
C: Brown (Smith) 22:37
T: Vance (Unassisted) 24:08
Second Half:
C: Brown (Smith) 42:52
C: Smith (R. Ryen) 53:20
C: Smith (R. Ryen) 74:24
Records:
Tyrone 2-2
Clearfield 6-0