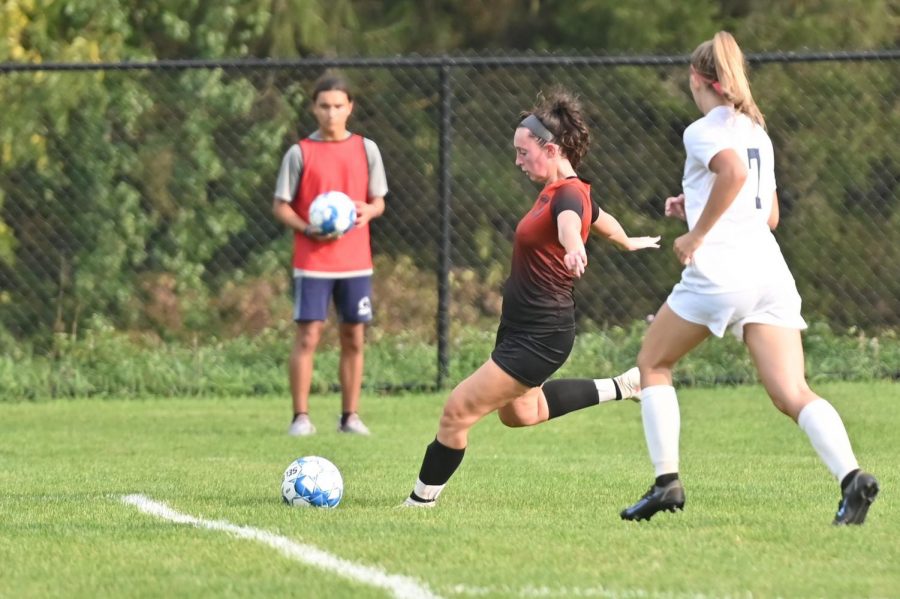 Maci Brodzina
It was a first for the Lady Eagle seniors Wednesday evening as they beat Bald Eagle Area 3-1, a feat that has not been done since their 2017 junior high season.
"The Bald Eagle game was a huge win for us, especially since it was our senior year. This has never happened before, and it felt so great to finally beat them," said senior Mackenzie Latchford.
Twenty minutes into the game, Tyrone's first goal was made by junior Chloe LaRosa. Senior Lindsey Parks assisted LaRosa, tallying up her third assist of the year.
Junior Avalyn Moore went on to add a goal with an assist from LaRosa to end the first half.
Bald Eagle's lone goal was made by McHenry shortly after, which motivated the Lady Eagles defense to keep pushing. They picked themselves up and shut Bald Eagle out keeping the score 3-1.
"We all did what we had to do and played together as a team. We never gave up from the start, and I'm very proud with how we played," said senior Natalie Saltsgiver.
LaRosa scored the last goal to end the game with a 2 goal lead on Bald Eagle. Her goal was unassisted.
Tyrone 3
Bald Eagle 1
Tyrone 2 1 3
Bald Eagle 1 0 1
First Half:
BE: McHenry(Unassisted) 4:10
T: LaRosa (Parks) 20:07
T: Moore (LaRosa) 31:03
Halftime: Tyrone 2
Bald Eagle 1
Second Half:
T: LaRosa (Unassisted) 65:55
Final
Tyrone 3
Bald Eagle 1
Tyrone (5-2)
Bald Eagle (3-3)