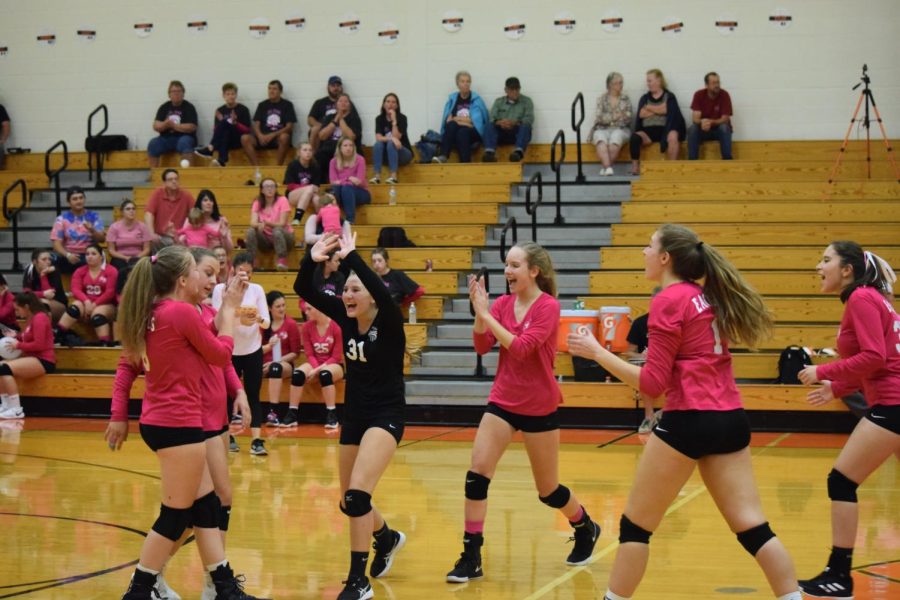 Christian Imler
The Lady Eagles Volleyball team made history Thursday night sweeping Bald Eagle in three sets. Prior to this season, Tyrone had never defeated Bald Eagle Area, but the win last night completed a regular-season sweep of BEA.
"It felt really good to win that game. We all walked out there with a sense of urgency. Everyone played great, I think we had the least errors of the whole season," said Tyrone junior Elaina Gehlman.
The first time the Lady Eagles took on Bald Eagle this season, they won in a hard-fought 5-set match. At home last night the Lady Eagles swept BEA comfortably in three straight sets.
The first set started with Tyrone's Maddy Rockwell serving. The Lady Eagles lost the game's first point due to a hitter error. Bald Eagle built a small early lead, but Tyrone then came back with their strong offense.to take the lead near the fifteenth point, and won the set 25-19.
In the second set the Lady Eagles energy increased. Tyrone started off in serve receive, and let Bald Eagle gain a few points on them from the service line. After gaining the ball back Tyrone used their great defense to keep the ball live, winning the set comfortably, 25-16.
The last and final set started off with Bald Eagle taking the lead in points. But Tyrone didn't let the set get away. The points were back to back most of the game, and eventually, Tyrone put the ball in places Bald Eagle couldn't defend and Tyrone won this final set 25-22.
"Most teams don't have a hitter in every position who can dominate, but we do," said Gehlman, who led the Lady Eagles with 14 kills.
Reagan Irons had 14 kills and Piper Christine was third on the team for the night with 10. Maddy Rockwell contributed 32 assists in the win.
The game was also the team's annual Pink Out night to raise awareness and money to fight breast cancer.
INDIVIDUAL STATS:
Elaina Gehlman 14 kills, 2 aces
Reagan Irons- 12 kills, 3 aces
Piper Christine- 10 kills, 6 blocks, 2 aces
Aliza Yazzie- 2 blocks, 1 kill
Maddy Rockwell- 32 assists, 2 aces
Maecy Tuskovich and Kylee Nelson- 2 aces