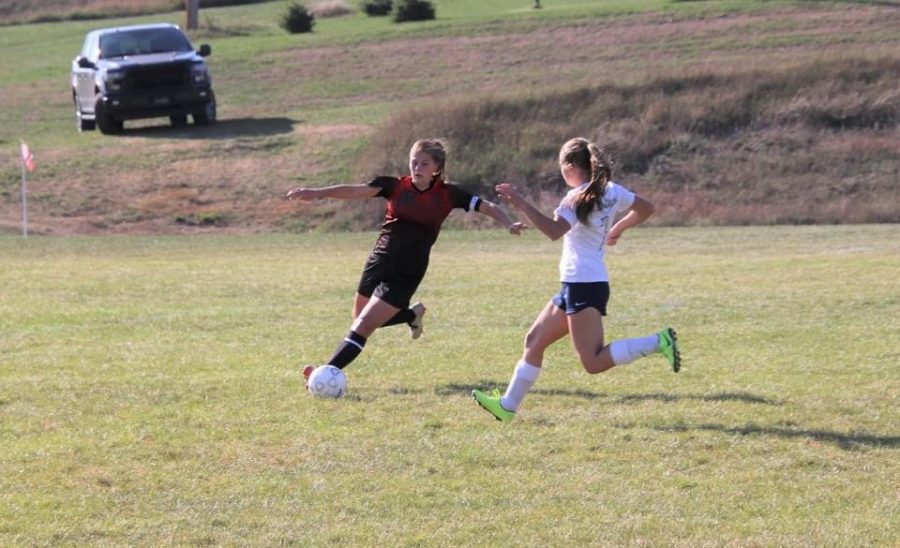 Courtesy of Aaron Vance
The Lady Eagles soccer team took down the previously undefeated West Branch Lady Warriors' on Saturday with a 2-0 shutout road win.
The Eagles benefitted from solid goalkeeping from sophomore Rayann Walls, who made seven saves and recorded her second shutout of this season. Patient play from the midfielders and forwards also contributed to several quality chances and shots on goal for Tyrone.
"Overall, I think we played a good game. We had many opportunities to score more goals, but we just couldn't finish. We ended up getting the outcome we had wanted for the game. This season we have a very good group of talented girls. I expect to accomplish more this season than what we did last season," said junior and co-captain Lindsey Parks.
The game began with possession even between the two teams, but 15 minutes into the first half, Tyrone senior defensive midfielder Kendall Markley was able to break through the Lady Warriors defensive line and make a quick pass to sophomore attacking midfielder Chloe LaRosa, who perfectly anticipated the ball in front of the goal. LaRosa took a quick touch and placed her shot in the open corner of the net for a 1-0 Tyrone lead.
The Lady Warriors did put pressure on Tyrone's goal in the first half but failed to get the ball behind Tyrone goalkeeper Rayann Walls. Walls was able to save all of the West Branch shots on goal.
The Lady Eagles took many more shots on goal including one that hit the crossbar and side of the goal. The Lady Warriors goalkeeper Sarah Betts prevented any of the shots from going into the net for the remainder of the half.
Entering the second half with a 1-0 lead, the Lady Eagles went back on the field with intensity and the hopes of getting more shots on target.
Both teams came out searching for the opposing team's goal but not one goal was found until nearly the end of the second half.
In the 75th minute of the game, the Tyrone offense maintained possession within the defending end of the Lady Warriors, looking for an open player for a shot on goal. LaRosa was able to find junior Lindsey Parks and Parks took a one-touch shot. Parks was able to raise the ball over goalkeeper Bett's gloves and perfectly hit the back of the net, giving the Lady Eagles the insurance goal they needed to seal the win.
With only a few minutes of the game remaining, West Branch desperately needed two more goals to tie the game and bring it to overtime. The clock then ran out and Tyrone was left with a 2-0 win over the Lady Warriors.
Score by Halves:
Tyrone: 1 1 — 2
West Branch: 0 0 –0
First Half: T- LaRosa (Markley), 15:31
Second Half: T-Parks (LaRosa), 75:46
Records: Tyrone- (3-2-1) West Branch- (5-1)