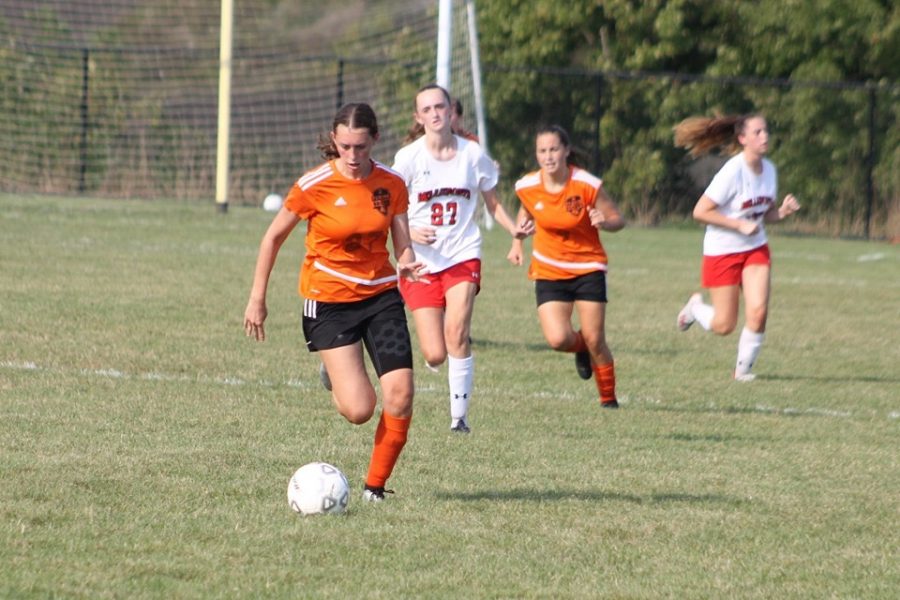 Courtesy of Aaron Vance
Tyrone Lady Eagles soccer team traveled to Bellefonte and played a hard game in the pouring rain, on Monday October 7th. After going into double overtime, the Lady Eagles beat the Lady Raiders 4-3 with less than two minutes left in the second overtime. 
In the first half of the game, Tyrone started out strong when Sophia Nelson took the ball and chipped it over Bellefonte's defensive line to Chloe LaRosa. LaRosa then took the ball and dribbled towards the goal and scored. Tyrone continued to stay aggressive and kept the ball on their side of the field most of the half, but Bellefonte stole the ball and scored in the twenty-eight and twenty-ninth minute. Tyrone continued to stay strong but couldn't get another ball inside the net for the remainder of the first half.
In the second half of the game, Tyrone came out looking for the back of the net but couldn't do so until the sixty-seventh minute. Tyrone tied the game up when Freshman Eliza Vance dribbled the ball down the field and took a good shot on goal
 Bellefonte came back seconds later trying to keep a point ahead in the game.  A couple minutes later LaRosa sprinted down the field with the ball and crossed the ball to Kendall Markley. Markley then took the chance to one touch the ball right into the goal tying up the game. No goals were made in the remainder of the half, so both teams went to overtime. 
"I think we pushed ourselves and really came together as a team and didn't give up throughout the game," said Tyrone Senior captain Cate Baran.
In the first overtime, both Tyrone and Bellefonte played defensively strong and no goals were made. 
In the second overtime, there were many shots on both goals. No goal was made until Eliza Vance stole the ball and passed it to Nelson, who was wide and open on the right side of the field. Nelson then took the chance and took a shot right into the top corner of the net making the winning goal for Tyrone. 
SCORE BY HALVES
Tyrone 1 2 0 1 — 4
Bellefonte 2 1 0 0 — 3
First half: T-LaRosa (Nelson), 1:17; B-Smith (Steiner), 27:21; B-Johnston (unassisted), 28:22
Second half: T-Vance (unassisted), 66:26; B-Johnson (unassisted), 66:50; T-Markley (LaRosa), 68:18
First overtime: No goals were made 
Second overtime: T-Nelson (Vance), 98:12