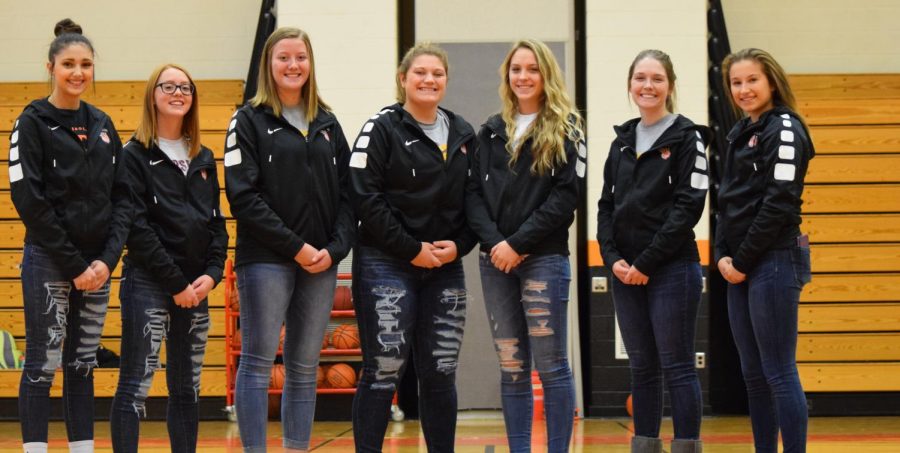 The Tyrone Lady Eagle girl's varsity team had yet another successful season last year, finishing with a record of 21-5. The season ended with two heartbreaking losses, one to West Shamokin in the District Championship game, and the other in the first round of the state playoffs to a talented East Allegheny team.
This year's squad has high expectations but will have to overcome the loss of two major offensive presences to graduation, Kasey Engle and Lexi Cannistraci.
The 2017-2018 Lady Eagles must be able to win without relying on just one or two people to put the ball in the basket.
The team must get more girls to step up and score and improve the team defense.  Many of the girls focused on conditioning in the off-season.
"I think we definitely got a lot stronger over the offseason, and I think we will be able to use that a lot during the season," said senior post/guard Payton Wagner.
The Lady Eagles will face a tough schedule and won't be looking past any teams.
"We obviously have games on our schedule that are 'bigger' than the others, but I think every team that we face will give us their best game and will play their hardest, so we will need to be ready every night," said senior post Emily Lehman.
As for goals, the team is setting their sights high and hope to go deep into the playoffs.
"Some of our goals for this season are to win the Mountain League again, get back into the District Championship game and win, and to make a run in the State playoffs," said junior guard Sydney Shaw.
"I expect us to compete each day at practice and compete in each game. I want us to challenge for a league and district title," said head coach Lucas Rhoades.
Aside from the goals that the girls set as a team, many of the girls have set goals that they will have to work very hard to achieve.
"I want to become one of the top defenders on the team and in the league," said junior guard/post Reilly Ronan.
Many of the girls take time over the season to try and improve any weaknesses that they believe that they have.
"I need to work on my attitude, my head can't go down whenever I'm playing bad," said sophomore point guard Mia Kosoglow.
Coach Lucas Rhoades has some other skills that he thinks the girls will need to focus on during the season.
"We need to limit turnovers and have scoring opportunities every single possession. Our focus for this season is to play hard every minute, and be mentally tough," said Rhoades.
The first game tips off on December 9th at home versus the Bellwood Antis Lady Blue Devils at 4:30 pm.