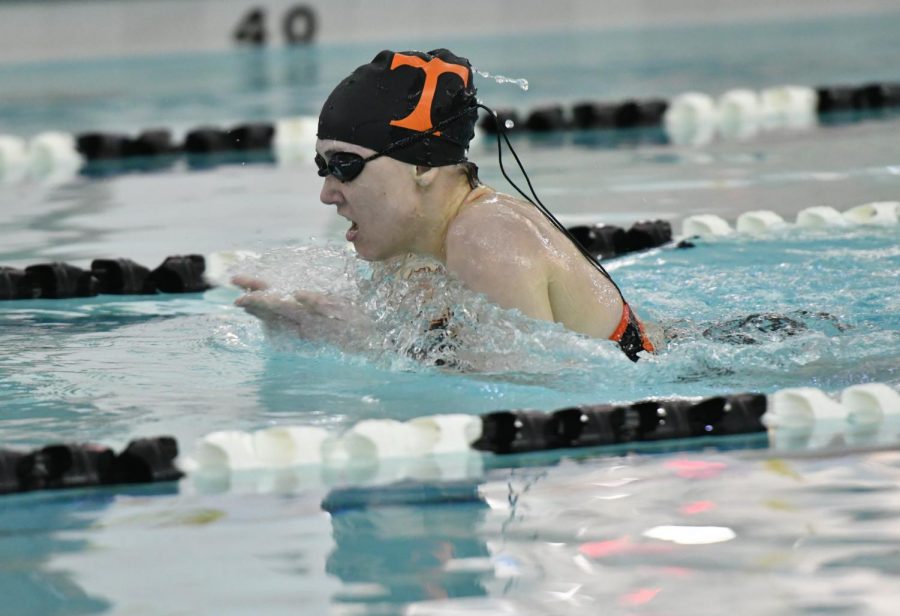 Lucia Isenberg
The Tyrone Girls Swim Team defeated the Hollidaysburg Golden Tigers 86-84 for their first victory over the Golden Tigers in twenty years on Saturday, February 13.
Hollidaysburg's program has historically been one of the best in the area, and according to Tyrone senior Maddy Coleman, that makes the win even sweeter.
"I've swum with a lot of the kids on the Hollidaysburg team at the YMCA and they are a talented and competitive bunch. Hollidaysburg is arguably one of the toughest contenders we face on the schedule and the fact that we were able to work together and defeat them is such a good feeling," said Coleman.
Coleman was a double winner for the Tyrone girls, with wins in the 50 and 100 freestyle events. Her win in the 50 free over Hollidaysburg's Megan Dinges by less than .3 of a second was especially exciting and important to the team's win.
Senior Sarah Hoover was also a double winner in the 200 IM and 100 breaststroke. Hollidaysburg's Dinges also pushed Hoover in the 100 breaststroke, finishing just under .3 of a second behind Hoover.
Another key win for the Lady Eagles was the 200 medley relay. The team of Lucia Isenberg, Sarah Hoover, Madison Coleman, and Kiersten Friday beat the Hollidaysburg team by just .70 of a second.
Isabella Rhoades came through with a key third-place finish in the 100 butterfly and the 500 free. Ellie Oakes's second place in the 200 free and fourth in the 100 butterfly were also key contributions.
While the Golden Eagles pushed ahead in the end, the score was close throughout the meet.
"It was one of the best meets we have had in many, many years. A bunch of swimmers stepped up and we got a lot of second and third places which helped us secure the win. We had a lot of great individual races and it really came down to our relays," said Tyrone Head Coach Tom Getz.
Had any of Tyrone's swimmers slipped just one spot in their races, the meet would have either been tied or lost, so this truly was a team win by the Lady Eagles.
"This meet was a perfect example of how every race counts. Each and every swim contributed to the outcome," said Getz.
On the boy's side, the small Tyrone squad was no match for Hollidaysburg, who won the meet easily 112-40, but the Tyrone boys did get three first-place finishes in the meet.
Senior Collin Yaudes fished first in the 100 breaststroke with a time of 1:17.10, Spencer Dunklebarger was first in the 100 freestyle with a time of 56:92, and Parker Bayard was first in the 500 freestyle with a 6:06.55.
To view the full meet results, click the link below:
Tyrone vs. Hollidaysburg Full Meet Results