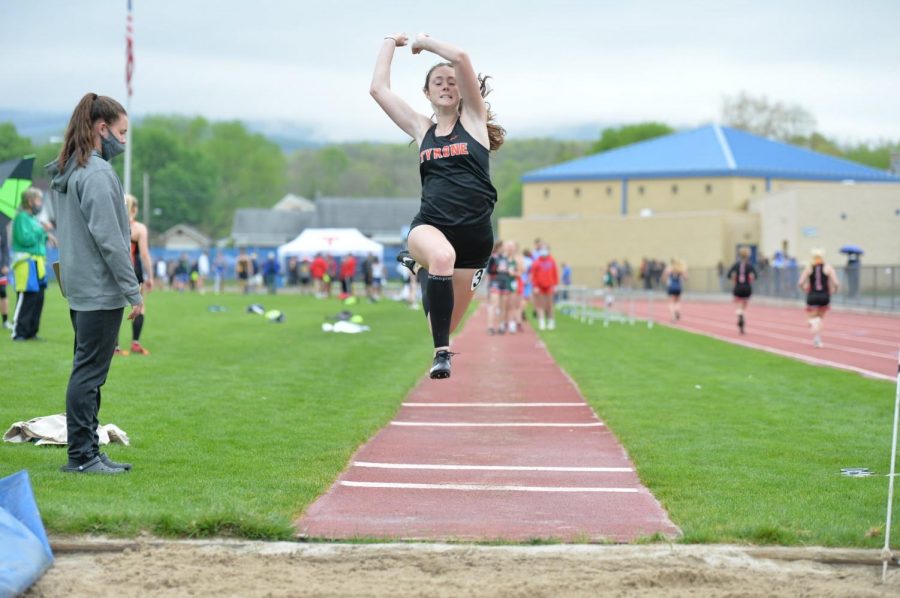 Terry McCaulley
Tyrone senior track and field athlete Chesney Saltsgiver is making up for lost time.
After losing the 2020 track and field season to last spring's pandemic shutdown, Saltsgiver has gone from being a solid contributor on the track team as a sophomore to an outright star as a senior.
Saltsgiver had a promising 2019 sophomore season, placing sixth in the triple jump with a 33-10.75 and tenth in the long jump at 14-10 at the 2019 District Championships, but fast forward to 2021 and Saltsgiver is a legitimate threat to finish top three at districts in three events: the triple jump, the long jump, and the 100-meter dash.
"My goal this year in districts is to make it to States," said Saltsgiver, "Competing at States has been my goal since I was a freshman and I've worked really hard to achieve that."
With the district championship meet only a week away, that goal looks achievable.
Saltsgiver placed first in both the triple jump and long jump at the Bellwood Antis Invitational and received the meet's outstanding jumper award.
Her best triple jump of the season is 36-6.5, second only to Altoona's Brooke Long, and first in AA.
Her best long jump is 16-1, third in the area, and second only to teammate Mackenzie Latchford in D6 AA.
Also, unlike 2019 when she only competed in the jumps at districts, this year Saltsgiver is also turning heads in the 100-meter dash, finishing second at the Bellwood Invitational and the Altoona Mountain Lion Classic.
Her top time of 12.57 in the 100 meters would have earned her a gold medal at the 2019 District Championships by more than half a second.
Last weekend at the Mountain Lion Classic at Mansion Park in Altoona, Saltsgiver was also part of the winning 400-meter relay team.
"Chesney has been doing great this season. I remember watching her when she was a freshman and I was coaching at another school. She has come a long way since then. She has become a lot more technical in her jumps and it has helped her out tremendously. Also, Chesney was never a 100-meter dash runner, she has exceeded expectations in that event this year," said Tyrone Head Track and Field Coach Brad Kanuch.
Saltsgiver has had such a successful spring that this week the Altoona Mirror named her their female Athlete of the Week for the region.
Saltsgiver's post-secondary plans will not include track, as she plans to focus on her academics at Penn State Altoona where she will go in the fall for nursing.
But for now, her focus is on track and field and the goal of making it to the PIAA State Track and Field Championship at Shippensburg University.