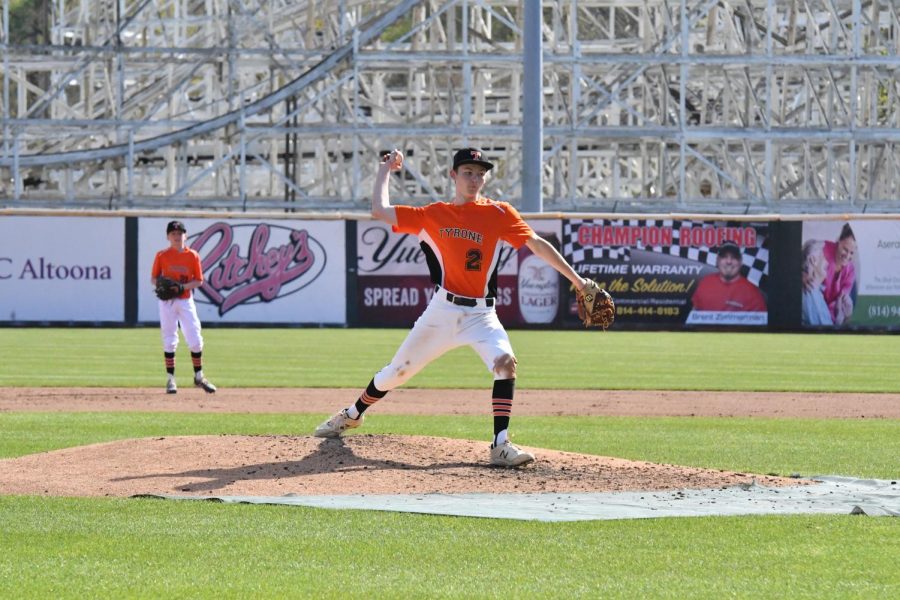 The Tyrone Junior High Baseball team got to do something usually reserved for professionals on Monday; they played one of their final regular-season games at People's Natural Gas Field in Altoona, otherwise known as the home of the Altoona Curve.
"This was definitely an opportunity we could not pass up and that they [the boys] were very deserving of," said Head Coach Luke Hamer. 
And to make a good experience even better, the Golden Eagles won the game 6-4 against Philipsburg.
The game opened with Landon Hamer on the mound and Oakes catching from behind the plate. Hamer gave up no runs in the first inning.
Tyrone scored 4 runs in the bottom of the first inning from singles by Ashton Walk, Landon  Hamer, and Kendall Lehner. Philipsburg pitcher Peterson walked Drew Irons to first base. Irons then scored on a single by Sam Crilly. 
The second inning continued with Hamer on the mound. Philipsburg managed one run off Hamer, but the defense quickly rebounded with three consecutive outs to switch sides.
In the bottom of the second inning, Lincoln Shirey hit a lead-off double, but Philipsburg strengthened their defense and held Tyrone to no runs. 
Ashton Walk took over the mound for Hamer in the top of the third. Both teams scored a run in the third inning, with Drew Irons scoring on another Crilly hit. 
The fourth inning was scoreless on both sides. 
In the bottom of the 5th inning, Landon Hamer was walked to first, stole second, and made it to third on a passed ball. He scored on a grounder hit by Kendall Lehner to make the score 6-2. 
Trouble was brewing in the top of the sixth inning when Philipsburg's Z. Wagner smashed a double off of a pitch by Ashton Walk to bring in two runs, making the score 6-4. 
However Walk quickly retaliated, striking the final three batters out to end the game, for a hard-fought 6-4 victory. Tyrone improved their record to 10-1. Walk had a total of 4 strikeouts while Hamer had one. 
"The experience that these young men had today playing on the Curve's field will be a memory that none of them will forget. They have all worked extremely hard this season to learn the ins and outs of baseball at this level," said Coach Hamer. "You could tell by the looks on their faces from the time we arrived until the time we left that they all had a great time. And I'm pretty sure the coaches had a great time too!" 
Box Score: 
Tyrone (6): Shirey cf 1-3, Walk ss, p 1-3, Hamer p, c 1-2, Lehner 3b 1-3, Irons rf, ss, lf 0-1, Crilly 2b 2-2, Miller lf, ss 0-3, Oakes c, rf 0-2, Woomer 1b 0-2.
Philipsburg-Osceola (4): McDonald 2b 1-3, Lamb ss 1-1, Peterson p 1-3, Wagner cf 2-3, Kowalcyk eh 0-2, Meyers 1b 1-3, Shaw 3b 1-3, Minnich rf 0-2, Matier c 0-2, Kephart lf 1-2. 
Score By Innings:
Tyrone-          401 010-  6
Philipsburg-  011 002-  4