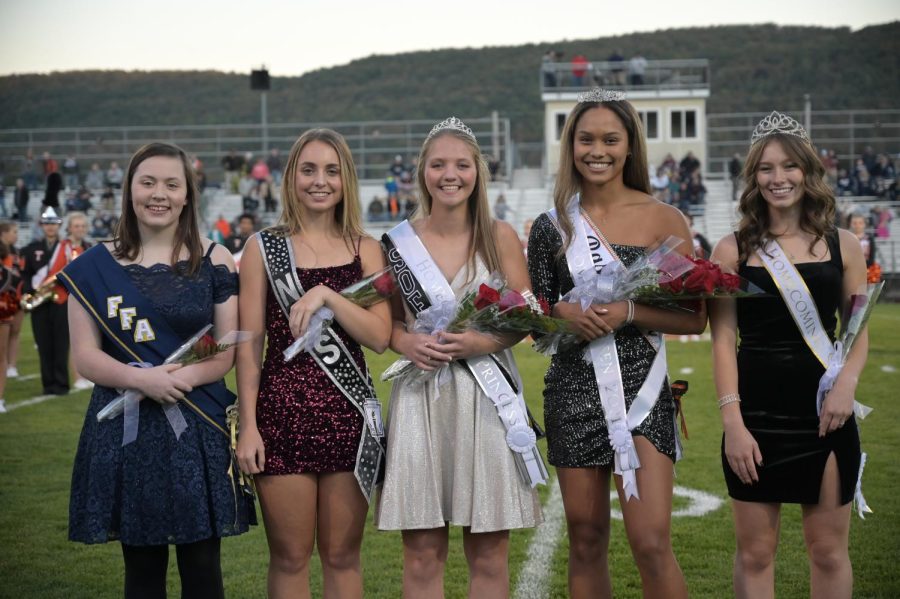 Ashlynn McKinney
Senior Jaida Parker was named Tyrone's 2021 Homecoming Queen before the varsity football game last week at Gray-Veterans Memorial Field. Maci Brodzina was named Homecoming Princess, Stephanie Ramsey was 2nd Runner Up, and Grace Peterson was 3rd Runner Up.
The annual court took place at Tyrone's home football field Friday when the Golden Eagles went head to head with the Bald Eagles.
Parker and Brodzina were among a group of 25 senior girls on the 2021 Homecoming Court representing clubs, sports and other student organizations at TAHS.
Community service is a big part of Tyrone's Homecoming Court tradition and this year's court did not disappoint, raising over $15,000 for St. Jude's Children's Hospital. A GoFundMe account was set up for students and community members to donate to this year's cause and was extremely popular within the community.
"I think this was a great group of girls and I loved how inclusive the court was. I think Tyrone does really well with that as opposed to other schools. Every girl was just as deserving as the next," said Parker.
Parker was nominated by the basketball team, fitting to her future college plans to attend Millersville University, where she will also play basketball and major in Pre-Physical Therapy. She is also a member of the National Honor Society, Golden Rev, Student Council, Quiz League, and played for seven years for a travel basketball team. She is looking forward to the next part of her life as a Marauder.
Brodzina represented the Lady Eagles softball team. She started her athletic career in elementary school by playing in baseball leagues until sixth grade. Brodzina then transitioned to softball in summer leagues. She is also a member of the National Honor Society, POPS Extension, and is the photo editor for the Eagle Eye. Brodzina is hoping to attend college to study physical therapy and play softball at a collegiate level.
Stephanie Ramsey was named the second runner-up, representing the National Honor Society. Ramsey is a tri-sport athlete, running cross-country and track, and playing basketball almost year-round. Along with NHS, she is involved in Student Council, Golden Rev, Youth Action Network, and St. John's Thrive youth group.
Tyrone's third runner-up was Grace Peterson. She represented the FFA club, which she has been a part of since freshman year. She was an officer for two years and on many committees, as well as competing at the state level for FFA. She has also obtained her Chapter degree and Green Hand degree, both honorable accomplishments. Peterson is a part of Tyrone's swim team, track and field team, National Honor Society, 4H, and Ski club. Peterson is looking forward to studying environmental engineering in college.
"I think the Homecoming court is a great way to recognize the girls who give back to our community every day through our clubs and sports. It will always be a huge honor to me that I was named Tyrone's Queen and I loved giving back to the kids through our donations," said Parker.